Winter Lights kickoff party goes Oct. 15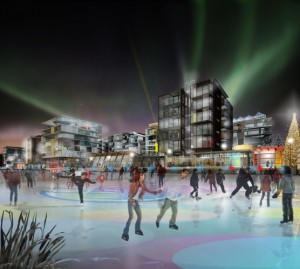 It's a little taste of winter before the snow actually falls.
Now, there are two ways to look at such a proposition: you either dread winter generally, in which case it sounds nuts, or you find ways to dread winter a little less, in which case it sounds like fun.
Let's go with the latter, shall we, and suggest everyone turn out for the start of the 2012 Winter Light Festival….which kicks off in 2011.
That would be Oct. 15, to be precise, at the Jubilee Auditorium, with a  big ol' launch shindig.
Chris Smith and Andrea House are providing the tunes, Poet Laureate Anne Marie Sewell is composing some appropriate verse, and the place will be lit up like a Christm… er, winter scene. There will be a cash bar, free hot beverages, and clothing donations will be collected for Share The Warmth.
The new non-profit Winter Light Society will be accepting donations towards its events, which are also partly funded by the Edmonton Arts Council.
This year, the society has already planned a two-day "Mill Creek Adventure Walk" Jan. 27-28  and a Year of the Dragon celebration at Louise McKinney Park Feb. 10-11, which the society promises will be "a fiery spectacle."