CONCERT REVIEW: Pearl Jam rocks Twenty out of Ten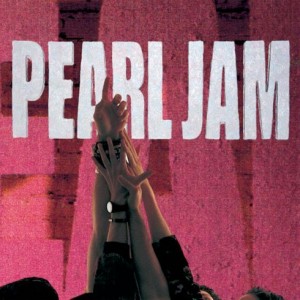 This concludes Pearl Jam Week in Edmonton.
We hope you enjoyed the band's spectacular show at Rexall Place on Friday night, and the Cameron Crowe documentary about how it all came to be so spectacular, Pearl Jam Twenty, celebrating the 20th anniversary of Ten, the band's breakthrough album. Some numerology is at work here.
The most overheard line at the show: Has it been 20 years? Yes, time flies. To mark this historical week of Pearl Jammery, here's the TOP TWENTY DEFINING MOMENTS OF PEARL JAM WEEK AND BY EXTENSION AN ENTIRE GENERATION:
1. Second most overheard line at a show where a great many people suddenly realize they're 40 years old: "Hey, dude, what happened to your hair?"
2. Tickets at Ticketmaster.
3. The presence of several hippie vehicles in the parking lot decked out in full Pearl Jam regalia. You don't usually see this sort of thing at Bon Jovi.
4. No mosh pit. Nine fans died during Pearl Jam's set at the Roskilde Festival in Denmark in 2000. They're not going to risk it happening again.
5. No signs saying "No Moshing or Crowd Surfing" as were seen at the last Pearl Jam concert in Edmonton. Anyone here ought to know by now.
6. Singer Eddie Vedder doesn't play the petulant fame-avoiding anti-rock star he's been painted as, but is instead a warm and generous host. He says, "Hello, Edmonton!" straight away. He works "Edmonton" into a song, he talks to his fans as if they're real human beings and not just fans, and even gives his tambourine to some kid in the front row. What a guy.
7. Shout-out to Bruce Springsteen on the occasion of his 62nd birthday Friday night. Says Eddie, "He was older than all of us and is now somehow younger than all of us." More than 13,000 people shouting "Happy birthday, Bruce!" – he heard it in Jersey.
8. Fitting the general Twenty/Ten theme, the show proper begins and ends with tracks from Ten – Wash and Alive, respectively.
9. The ferocious reading of Not For You.
10. Even more ferocious version of Do the Evolution.
11. Wicked guitar solo in Even Flow.
12. First encore tune showing the mellow, folky side of Pearl Jam: Just Breathe. Wasn't a dry eye in the house.
13. Insertion of lines from Pink Floyd's Another Brick in the Wall (Part II) into Daughter.
14. The rushed tempos, a hallmark of excitement, and also proof no "click tracks" or pre-programmed sounds were used. Even the tender ballad Better Man feels like a runaway train.
15. Ed going on about Edmonton: "Can I call you E-town? How about I just call you Ed? – and you can do the same."
16. Not being able to remember playing Edmonton on Nov. 24, 1991 because IT DIDN'T HAPPEN. Pearl Jam's website lists the gig as happening at the "Convention Centre" in a show consisting of just seven songs, which is weird. Vedder jokes that his memory lapse may have come from "my first introduction to Canadian beer." On Nov. 24, 1991, Pearl Jam opened for the Red Hot Chili Peppers at the Convention Centre – in Indianapolis, Indiana. Honest mistake.
17. Hardly anybody in the arena for the opening act Mudhoney, which delivers a terrific set of all-out punk-metal slam-bang mash-up with singer Mark Arm turning into a maniac the moment he ditched his guitar.
18. Hardly anybody in the arena for Mudhoney because everybody is out in the parking lot getting lit up.
19. Redemption for Mudhoney in a big-ass second encore jam featuring both Seattle bands together on a spirited rendition of MC5's punk rock classic Kick Out The Jams. Eddie Vedder sang the same song at Mudhoney's New City show on Thursday.
20. Eddie showing genuine gratitude for both the "great" Edmonton crowd – which all rock stars say about all the towns, but this was different – and the fact that he and his bandmates have remained friends all this time. Has it been 20 years?