Emerging designers sparkle at Western Canada Fashion Week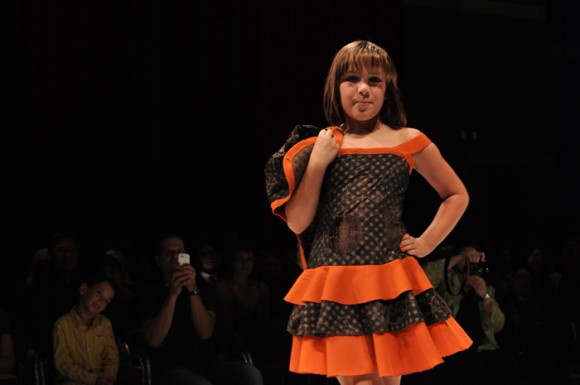 Fashion lovers from Edmonton and beyond are congregating at the TransAlta Arts Barns in Old Strathcona this week for Western Canada Fashion Week.
The twice-yearly event, which kicked off Thursday with a Marvel College showcase, is the biggest of its kind in this part of the country.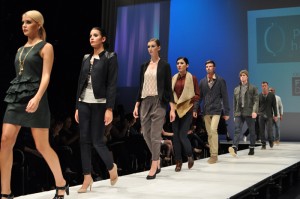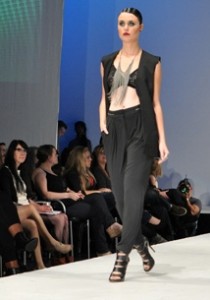 Friday's first runway show featured retailers from Edmonton's Fashion District (a.k.a. Whyte Avenue), including Gravity Pope, American Apparel, the Avenue Clothing Co. and Bamboo Ballroom. The tone varied across the board, but palettes were generally very much grounded in neutral colours. Collections from Rowena, Mars & Venus and Nightshade Corsets, some of the strip's fringe-culture shops, added in a little colour and sparkle. For men, plaid shirts paired with sweaters were a repeat theme. These were often paired with man-purses.
Following intermission came the winners of the Goodwill stylist competition with ensembles lifted from thrift shops and caked with studs for a bit of an edge. Later, a swimwear line from TK Couture by Tisa Konev garnered a lot of attention. Models strutted their stuff in shiny bikinis and bright one-piece bathing suits with unusual cuts.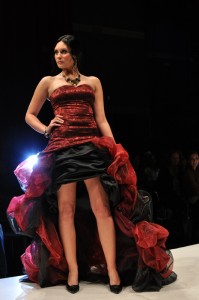 The highlight of the evening was the emerging designer competition, which featured original creations from new local designers as young as age 11. These included a meticulously tailored woman's suit, a frothy black and red gown, an angular new wave-cum-Japanese ensemble, a basic black dress, a clean, beaded resort-wear dress and a dress-jacket combo that was "perfect for a Grade 7er's first dance," according to its designer. Patience, who describes herself as "in love with her (sewing) machine," took home top honours and the opportunity to show a collection in next season's show.
Western Canada Fashion Week runs at the Arts Barns through September 29.
(Photos by Robin Schroffel)