ART: EBC peddles some of its best work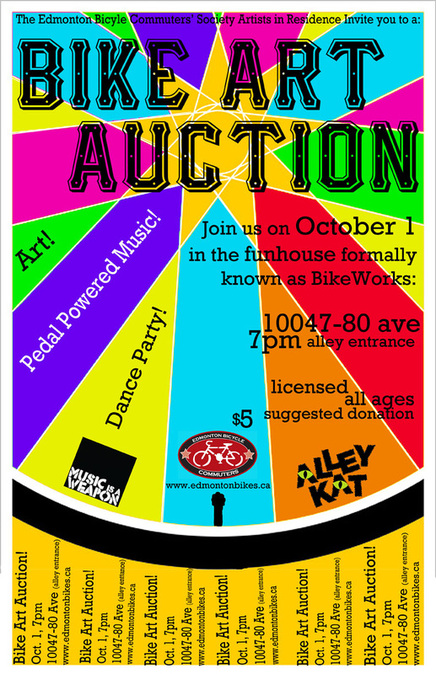 Big events are usually held annually, but the last art auction Edmonton Bicycle Commuters held in February was so popular they've decided to have another one just seven months later.
The last time around, EBC was celebrating its 30th birthday with a bash at a community hall, and a portion of the proceeds from the sale of each bicycle-themed art piece went toward the organization.
The auction on Oct. 1st will be a little different. First, it's being held at EBC's community bicycle shop, Bikeworks. And second, much of the art is coming from workshops that were held Wednesday nights at Bikeworks over the summer, and a portion of the money that's raised will cover the costs of the two artists-in-residence who facilitated the workshops.
"There seemed to be enough interest after the first art auction that people wanted to see something continue," says Anna Vesala, EBC's executive director, about the decision to hire artists at an organization many cyclists associate with either bicycle repairs or lobbying the city for better bike lanes.
Vesala says the artists-in-residence program had to be self-supporting, but she says the decision was left to the artists about how they wanted to raise money. They could have built one big sculpture and sold it for $4,000, or made lots of little ones and sell them for $10. It was really up to them, she says.
The workshops were held in a loft-like office that overlooks the volunteer-run bicycle shop, and as the participants created and experimented with different forms of bicycle expression, mechanics below them showed cyclists how to rebuild hubs, clean gunk from derailleurs and replace worn brake cables.
The art they produced ranges from silk-screened T-shirts and underwear, to wallets made from recycled inner-tubes and sculptures built from bike frames. The people who produced it weren't necessarily artists to begin with, but they all possessed an interest in bicycling culture.
"Everybody who's come in has a unique idea to me," says Leila Sidi, one of the artists-in-residence.
Sidi says most of the people at the workshops have been steeped in the do-it-yourself lifestyle and are used to re-purposing old materials. One person who's been coming, she says, is particularly skilled at finding materials the artists need in Dumpsters. She says when she needed a lampshade and an old pair of shoes, he came through with the items a couple of days later.
Kim Smith, the second artist-in-residence, says the workshops have frequently attracted a dozen people, and that many of them have been working on ongoing projects.
"Some people have specific projects, some people just come in and say 'I like bicycles' and we go from there," Smith says. "What I really, really like doing is helping people see bicycles beyond utility."
One person sketched the activity that was taking place on the shop floor, Smith says. Another person wanted to build a bracelet from pieces that were salvaged from a bike that he'd crashed on. "He wanted something to remind him of what he'd learned in that accident. Not just things like ride carefully, but living every day to the fullest," says Smith. "I think that was one of my favourite projects."
Like the last bike art auction in February, this one will have music that's powered by a bicycle generator system provided by Music is a Weapon. In order for the DJ to keep playing and people to keep dancing, volunteers take turns pedalling on the bikes. In addition to the last auction, there will be short bicycle-themed videos projected onto a wall, including one that depicts the construction of a sculpture built from recycled bike parts that took second prize at the recent Kaleido Festival for lamp post installation. Another video is set to the work of Edmonton poet Mary Pinkoski.
The artists-in-residence have also been putting a 'zine together made up of stories, poetry, recipes and photos — most with a bicycle theme — that will be available for sale during the auction. "It will be like a concrete artifact of the summer," Smith says.
The event starts at 7 p.m. at Bikeworks (10047 80 Ave. — entrance through the alley). Bidding for the first round of items closes 9:30 p.m. and the second round closes at 11 p.m. The suggested donation for entry is $5. The event is all-ages, licenced and light snacks will be provided. Artists decide the portion of the proceeds that go towards EBC.