EIFF REVIEW: Matching Jack turns on the waterworks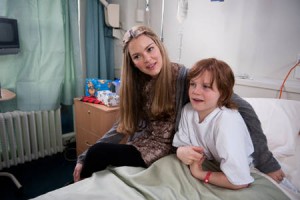 In a film festival lineup filled with so many heavy-hitting documentaries and scriptwriting gems, the Australian drama Matching Jack really is somewhat out of its league in most respects, a paint-by-numbers story about coming to terms with family loss.
The redeeming element of the film, which showed Sunday at the Edmonton International Film Festival,  is the cast and their uniformly excellent – and occasionally brilliant — performances.
Marissa (Jacinda Barrett) is a power wife to a brilliant architect, David (Richard Roxburgh), but has no idea he's a philandering pig. While he's off gallivanting one weekend with a woman half his age, his wife discovers their son, Jack, has leukemia.
Enter the roguishly good looking Irish love interest (Ballykissangel's James Nesbitt)… whose son Finn also has cancer, in a more advanced state than Jack's.  It's all so familiar it could be an old-style network TV movie starring Valerie Bertinelli and Jonathan Taylor Thomas, right down to the cheesily-unlikely-but-potentially-lifesaving twist.
It should be noted, if you've read any promotional material about the film, that the central theme is not the love story. This is not a romantic drama, it was just terribly marketed as one.  Instead, a cast of veteran Aussie character actors injects so much life, passion and vulnerability into this motley crew's tragic-yet-affirming tale  that you'll actually want to sit through this five-hanky weeper to see it turn out as expected.
Matching Jack has won a few Film Festival prizes and it's up for competition here in Edmonton. But the mere fact that it takes patience – the first 15 minutes are leaden – to be engaged by the film and characters sets it well below some of the offerings over the EIFF's nine days.
Having said that, if the idea of a good cry appeals to you, you can't do much better.