EIFF REVIEW ROUND-UP: From Fightville to Bob and the Monster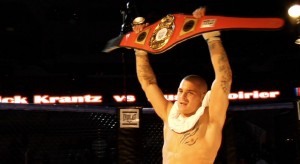 Did anyone actually sit in a movie theatre on such a beautiful weekend? Don't worry, film buffs – the Edmonton International Film Festival continues through Saturday, Oct. 1 at the Garneau Theatre, Empire City Centre and other venues around town.
From heavy documentaries to road trip movies to romantic comedies to stuff we still can't figure out what to call, here's a round-up of some of the films that screened on opening weekend.
FIGHTVILLE – Shows the human side behind the brutality of ultimate fighting.
GREEN WAVE – Political doc about Iran.
MATCHING JACK – Prepare to cry in this affecting family drama.
THE SWELL SEASON – Story of Oscar-winning songwriting couple.
CRIME AFTER CRIME – Heavy doc about woman who murdered her abusive husband.
CLOUDBURST – Aging lesbian romantic road dramedy.
BOB AND THE MONSTER – Inspiring story of rock star and reformed junkie Bob Forrest.