WHO'S IN THE BAND: Bachman & Turner tonight at the Jube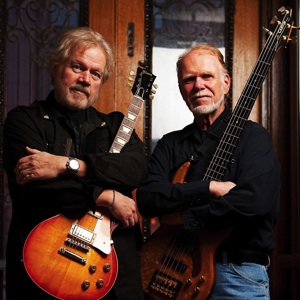 It's all well and good if you're Pearl Jam and stay together 20 years before some bigshot Hollywood director makes a movie about you. That's easy. Twenty? Try 20 DIFFERENT bands over 50 years, Sonny Boy, when you're actually entitled to be called "classic rock" and you argue about who was in the room when you wrote American Woman; and after all the solo projects, break-ups and endless reunion tours, it takes an hour to explain who's in your damned band these days.
Which brings us to today's GIG OF THE DAY: Bachman and Turner at the Jubilee Auditorium (buy tickets here). Classic rock titans Randy Bachman and Fred Turner were the principle members of Bachman Turner Overdrive, whose hits included Takin' Care of Business, Hey You and other anthems entrenched into the Canadian rock landscape. These songs PAVED the roads they were in the middle of.
A flow chart is required to keep track of Randy Bachman's activities. The 67-year-old Canadian rock God started with what would come to be the Guess Who in 1960, with Burton Cummings, and would go onto pen one of those songs that not only define generations, but allow the songwriters' future generations to be farting through silk their entire lives. American Woman holds a prominent place in The Worst Rock 'n' Roll Records of All Time.
Bachman left the Guess Who and formed Bachman Turner Overdrive, whose breakthrough in 1973 pioneered the band acronym trend seen so much today. BTO, thanks again to Bachman's gift for hooks, tapped into the booming '70s testosteronic radio demographic with a vengeance: Takin' Care of Business, You Ain't Seen Nothin' Yet, Take It Like a Man. Sense the theme.
Things get complicated from here. Bachman split in 1977. Various Guess Whos and BTOs toured around, some with original members, with various legal wrangling over who owned the band names. To make things even more confusing, Bachman himself tried several solo outings. There was a short-lived Guess Who reunion in 1983, a BTO reunion shortly thereafter featuring the drummer from the Guess Who, several Burton Cummings solo tours, a BTO split, another Guess Who reunion, a BTO that didn't include Bachman, another BTO split, a Guess Who reunion that wasn't called the Guess Who but Bachman Cummings – and finally we come to Bachman Turner. They played Takin' Care of Business at the last Grey Cup.
Clear?
This is actually a double bill concert tonight: Also featuring Paul Rodgers. He was with Bad Company. Long story.