Big Sugar returns to play EEC Nov. 3 – is this a Canadian reunion trend?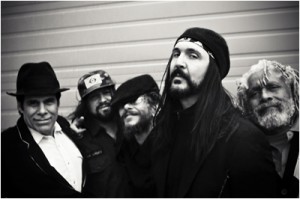 OK, now it's an epidemic. Another noted Canadian band from the mid-'90s is coming back from self-imposed hiatus – Big Sugar.
Gordie Johnson's first claim to fame will return to town to play the Edmonton Event Centre on Thursday, Nov. 3. With Wide Mouth Mason opening – with Gordie on bass – Big Sugar is touring Canada to support its latest studio album Revolutions Per Minute.
Tickets to the show are $35 and go on sale Friday at Ticketmaster (here).
In a band once described – by Gordie – as "exactly too loud enough," Big Sugar also burned some powerful memories back in the day. Combined with the singer's wild, elastic slide guitar style and bluesy leanings, statements like "I don't want no sugar in my coffee – it makes me mean," took hold of the zeitgeist. The band persisted for years until Johnson grew weary of the record business, so he said, moved to Austin and became a cosmic cowboy (and record producer) for a while.
You could say Big Sugar never really went away, but like so many of their Canadian mid-'90s rock peers, they've picked an interesting time to "come back."
Who will be next, we wonder?