The Tea Party to rock Edmonton Nov. 18 – the band, not the political movement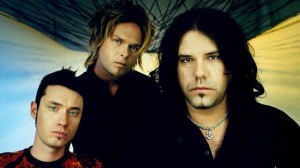 No politics … just rock and roll.
That's what it says on the Tea Party's website, so as not to cause confusion with the American right-wing political movement that's sprung up since the last time the popular "Moroccan-roll" band toured Canada and which apparently wants the teaparty.com domain in the worst way. The Tea Party movement is named for the famous Boston Tea Party rebellion that helped spark the American Revolution. The band supposedly took its name from the Mad Hatter's tea party. Not much difference, really.
Anyway: Yes, they're back, as in reunion, and they're black, as in subject matter. The Tea Party – the band, not the political movement – returns to rock the Edmonton Event Centre on Friday, Nov. 18. Tickets are $35 and go on sale Friday (here).
With frontman Jeff Martin both looking and singing like Jim Morrison, while he played guitar like Jimmy Page, a real triple threat, the Tea Party made a big dent in the Canadian rock landscape back in the day. That day was sometime in the early-mid-'90s when the trio scored hits like The River, Heaven Coming Down and Temptation and raised the bar for Canadian gothic rock. It all become a bit too dark and serious sometimes, which may be why the band declared a hiatus in 1995 – or maybe they just needed a break after opening for Def Leppard. Hard to know. In any case, Martin tried a couple of solo projects in a couple of directions, while his partners Jeff Burrows (drums) and Stuart Chatwood (bass) remained active in the Toronto music scene.
As we all know, it takes a force of nature to prevent popular band reunions – said bands often promoted to the status of "classic rock." Could this apply to the Tea Party? After all, it's been almost 20 years – and there's that pesky Twenty popping up again to give rock fans an instant rush of age reality check.
Thanks a bunch, Pearl Jam – and welcome back, Tea Party! Not to be confused with the right-wing political movement.