Ninjaspy creates its own scene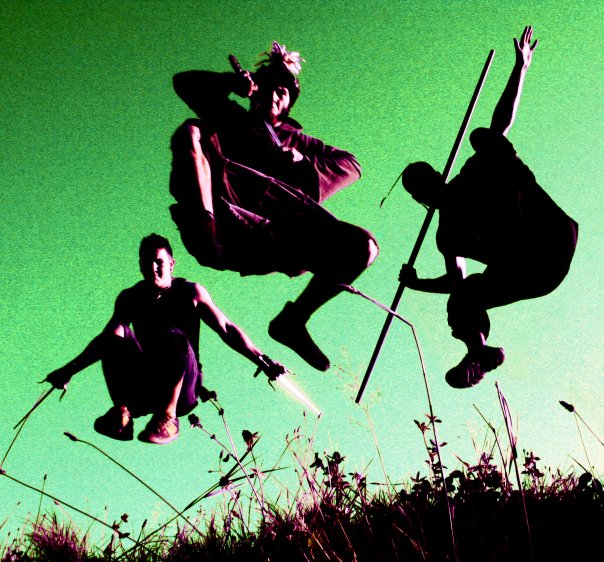 It only makes sense that unconventional music should be released in an unconventional fashion.
Ska/metal band Ninjaspy's upcoming EP No Kata, a 10 ½-minute piece of music employing its trademark genre-hopping and warped time signatures, will feature an accompanying graphic novel in which the song's lyrics make up the narrative and dialogue.
The effort is being produced by GGGarth Richardson (Rage Against the Machine, Melvins, Red Hot Chili Peppers).
"Basically every second of the EP is synched up directly with the graphic novel as you read it, so it's sort of one tangible multimedia experience kind of thing," singer/guitarist Joel Parent explains.
"It's really experimental, I'm not really sure how it's going to be taken by people … I'm probably more excited for (this) than anything I've ever done in the past."
Ninjaspy played birthday bash for Starlite Room talent booker Art Szabo Saturday night at Brixx Bar and Grill.
Parent and his two bandmates – his younger brothers Tim and Adam – planned to have the full EP package done before the show, but we'll have to wait.
"The No Kata tour has unfortunately been depleted to the 'No' No Kata Tour," Parent quips.
No Kata's story follows the life of an outcast from an ancient forest tribe who finds himself in the city, bereft of family and friends, with no memory of where he came from.
As he slowly loses his mind, the man wanders the streets while people are taken over by The Skank, a demon that invades human bodies and turns them into angry, bloodthirsty zombies.
"It's got the flavor of medieval fantasy, it's got the flavor of Japanese martial arts and it's also got the flavor of zombie holocaust flicks," Parent says.
The trio has spent six years fine-tuning its schizophreinic sound as Ninjaspy, but the brothers started jamming a dozen years ago when they were between the ages of 11 and 15.
They initially worked together despite having little in common musically – Parent loved Weird Al and grunge rock, while bassist Tim preferred King Crimson and Victor Wooten, and drummer Adam was into Tupac and the Backstreet Boys.
"We came from extremely different roots but over the years we've all expanded our horizons so that we've all grown to like things that each other like," Parent says. "I don't think there's anything my brothers listen to that I don't like."
Mixing genres that most music fans prefer to keep separate is rarely a good marketing plan, however, a fact Ninjaspy is well aware of.
The band has shared stages with acts as diverse as Coheed and Cambria, Powerman 5000 and Neuraxis, receiving mixed reactions along the way.
Parent says it's a curse and a blessing.
"There are some people that think it's absolute heresy and sacrilege to put ska and metal together. They think it's just fucking awful," he admits.
"I love that we get to play with ska bands and grindcore bands. I appreciate all of that music, so it's nice for me. But it's also a curse because we'll never get into any of the scenes, whether it be the elitist metal scene or the straight-edge hardcore scene.
"It's a bit of a hard road, but I don't think I'd ever change what we do."