EIFF REVIEW: A Bag of Hammers pounds metaphor to breaking point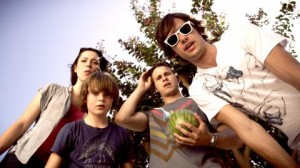 While life is like a box of chocolates in that you never know what you're going to get – though there's probably chocolate in there somewhere – life can also be a Bag of Hammers.
A little bell goes off in heaven every time an actor utters the name of the movie they're in – and they sure pound the metaphor hard in this melodramatic comedy about two young con artists who take a fatherless boy under their wing. It's Two and a Half Men meets Paper Moon – which screened Saturday at the Garneau Theatre for the closing night at the Edmonton International Film Festival.
"We all get a bag of hammers," one of the pseudo-dads tells the kid at one point. "It's what you do with these hammers that shows what kind of man you are."
The characters prove the point mainly by negative example. Best friends Ben (Jason Ritter) and Alan (Jake Sandvig) have chosen a life of crime, while Alan's sister Mel (Rebecca Hall) is a waitress in a waffle house. The boys are doing so well that they bought a rental property next door, currently occupied by a single mom and her son. Carrie Preston's performance as the desperate mother Lynette shines the most in a film marred by generally weak acting. The second best performance comes from Chandler Canterbury as the neglected kid. Bonding instantly to his cool neighbours and quickly figuring out what they do for a living, he's game for anything. All an unloved kid needs is one person to care and he'll be OK no matter what happens, right?
Needless to say, every character here has a tragic backstory, a "bag of hammers." Kelsey's dad doesn't want him, Mel was abused by her father, it's one tearjerking story after another. With a plot almost as manipulative as Forrest Gump – given a bigger budget, who knows what heights of bathos could've been reached – A Bag of Hammers plays your heartstrings like a fiddle, especially after not one, but TWO montages of what happened (or could've happened) after the arrangement inevitably goes awry.
Filmmakers also seemed to have no idea how to end their movie. It would've worked beautifully right after the funeral scene (for a 55 minute film), and while the movie does eventually end, on a hopeful note, it certainly would've been more satisfying dramatically without stumbling onto the post-credits outtakes – in which they literally buy a "bag of hammers."
"You know this is just a metaphor, right?" says Ben to Alan in the hardware store, breaking the fourth wall.
Yes, damn it! Now put it away.