Pains of Being Pure at Heart earns buzz from fuzz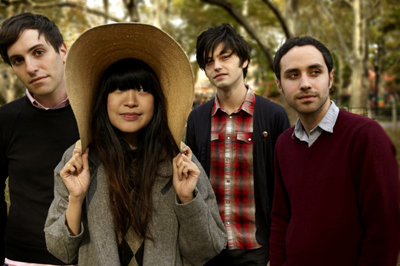 The New York indie pop band whose name is so long its acronym is still longer than most other band names – Pains of Being Pure at Heart, or POBPAH – is being talked about non-stop not only in the Blogosphere and Twitterverse, but in some of the largest music magazines in the world like Spin, Rolling Stone and NME.
The band headlined the Starlite Room on Saturday night.
Their rawness, combined with overstretched fuzz, commanding guitars, and the vocals and lyrics of Kip Berman result in a truly powerful music experience. Their live shows are momentous and memorable as well, and to prove it they were invited to perform at three of the largest North American festivals earlier this year – Coachella, Lollapalooza and Osheaga.
After beginning the band's young life in a 10 minute set at keyboardist Peggy Wang's birthday party in 2005, the band released its self-titled debut album in 2009. The sophomore album "Belong," which came out this spring, is heavier than previous efforts. Berman explains, "The album is more immediate, more noisy, more beautiful. We never stopped believing in noise and pop, but now we've pushed both further."
Despite the hype, the band remains nonchalant and self-effacing. During interviews they often steer the discussions towards their favourite bands of the 80's and 90's, or food or sports. Berman told one interviewer that his favourite possession was his electric Omelette maker – "it makes perfect omelettes every time! You can't lose!"
Opening for POBPAH is another indie quartet named Big Troubles, which also just released its sophomore album, "Romantic Comedy," earlier this week to critical acclaim and should prove a compelling reason to show up early.
And where did POBPAH's exceedingly long name come from? Berman has a good friend who wrote a children's story – as yet unpublished – with the title "The Pains Of Being Pure At Heart". Now you know.