REVIEW: Tom Wood stunning as tragic hero in Death of a Salesman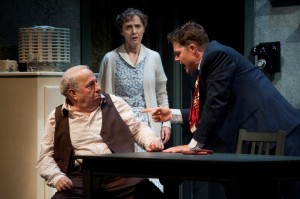 Even non-theatre people are familiar with Death of a Salesman, Arthur Miller's bleak tale of Willy Loman and his family that ends in Loman's death and dissatisfaction all around.
It's part of the high school canon of literature, and with good reason: life hasn't really changed much since the show's premiere in 1949.  The Citadel Theatre's latest treatment of this iconic American play – the first time they've staged it since '84 – is bang on, and communicates a tragic, hopeless story that, even in 2011, is not really all that removed from modern living.
Directed by Bob Baker, the show stars Tom Wood (above, left) as an Archie Bunker-esque Loman. He owns the role, completely gruff and quick to anger, smacking women on the rump and retaining his stubbornness to the end (and, on the night of this review, receiving a standing ovation for his efforts).
Loman's story unfolds over the course of three hours, with the help of supporting characters, including his wife Linda (Brenda Bazinet), his favourite son Biff (John Ullyatt) and Happy (Tim Campbell). The tension between Biff and Loman is palpable and pronounced on both sides, and Happy earns the most laughs of the show with his portrayal of the approval-seeking, overlooked son.
The set, a simple post-war Brooklyn home in greys and hospital greens overshadowed by an apartment block, effectively sets a melancholy mood and tone and is perfect in its simplicity. When Loman's memory takes over, things are sunnier and old elm treetops drop from the sky. His past and its various characters drift in and out of the present plotline seamlessly, bathed in a warm golden glow. The show looks, sounds and feels compelling and, all in all, is very rooted in tradition.
There's no doubt Death of a Salesman is a departure from the spectacular, elaborate productions the Citadel has been making an international name for itself with recently. Here, it all hinges on the performance – specifically, Wood's – and his ability to draw the crowd into the story. The emotional effects run impressively (and depressingly) deep. Just try to leave that residual hopelessness at the theatre door on the way out.
Death of a Salesman runs through October 16 at the Citadel's Shoctor Theatre.