Comedy Cares, iHuman land arts grants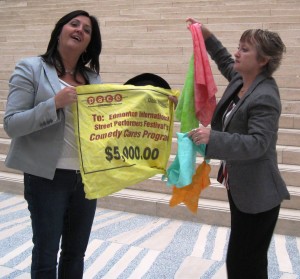 You don't get a much better example of art helping heal in Edmonton than the work of the iHuman Society, and the Street Performers' Festival's Comedy Cares Program.
Yesterday, that record of reaching out landed each a $5,000 grant from the Professional Arts Coalition of Edmonton, as part of proceeds of the Mayor's Celebration of the Arts.
iHuman , helps kids find positive ways to fill their time and learn a craft through programs in art, music, visual design, dance, fashion and more, while also offering community support programs.
The Comedy Cares program, meanwhile, provides free visits to hospitals and long-term care facilities year round by comedians, clowns and other performers.
"We are very grateful to the Mayor and PACE for the opportunity to bring a cast of international artists and healing laughter to patients, families and caregivers in hospitals and care facilities throughout the community," commented Sue Broderick, Board Chair of the Edmonton International Street Performers Festival.
Added Catherine Broomfield, "Support for iHuman allows our city's vulnerable youth to express themselves through the arts. Their insight is often raw. However, giving voice to these stories empowers creative and hopeful change for the youth and our community."