EIFF rides into sunset with winning films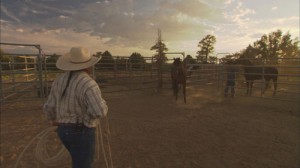 As the Edmonton International Film Festival rides into the sunset – as riding into sunsets is one of the greatest film clichés of all time – let us celebrate the winners of our annual cinematic celebration. Yes, there was a contest, too.
Fittingly, "Wild Horse, Wild Ride," a documentary dealing with wild horses, was named the People's Choice Feature winner of the EIFF this year, selected from among 57 features screened this year.
Co-director Greg Gricus said, "The horse issue is a good one and in that story, the people we met, we fell in love with those folks. It was great to get to share it with you and we hope you got a feel for what they're doing. They're inspiring people. I hope the film brought that out and helped inspire you."
In the shorts category, Vincent Gallagher's "Crossword," a crossword puzzle fantasy, picked up the People's Choice Award.
The films screened at the "EIFF U" series were voted upon by students, who selected the Canadian short "Distilled Love" and the feature documentary "Thespians" as the top films.
Here are some of the winners in other categories:
Best Canadian Indie: Cloudburst.
Best Indie Feature: A Bag Of Hammers
Best International Feature: Matching Jack
Best Indie Doc: Wild Horse Wild Ride
Best Alberta Short: Not Far From the Abbatoir
Best Canadian Short: Trotteur
Best International Short: Crossword
Best Doc Short: Simply Rob
Best Animated Short: Morning Stroll
Best Experimental Short: The Maestro