Underground supergroup Darlings of Chelsea unleash 'Panic'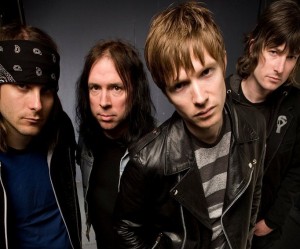 Darlings of Chelsea have been around. Names like The Black Halos, Robin Black and CJ Sleez are likely familiar to anyone following the underground music scene across Canada over the past decade or more, and in 2009, a few longtime rockers who paid their dues as members of the above banded together in Toronto to keep on with the tradition of playing rock 'n' roll.
Now, the four-piece is armed with a brand-new album, Panic is Worse than the Emergency. The record was recorded this past summer and is barely a month old, so it seemed the perfect time for Darlings of Chelsea to head out on its first cross-Canada tour. The band aims to spread the news the old-fashioned way, something vital when you've released an album yourself rather than through a label.
"A lot of people don't know it's around yet," says guitarist Jay Millette (Black Halos).
To complement Panic, which is only available on CD, Darlings of Chelsea has also released a new 7" single on London, Ontario label Yeah Right! The two tracks are from a recording session back in 2010, made just before the band and its former lead singer parted ways.
"He ended up not singing for one reason or another and soon after that he quit. We got our guitar player to sing it, and he's been the singer ever since," Millette explains.
Darlings of Chelsea was very nearly without an Edmonton show, after the original booking was cancelled by the club at the last minute. Luckily, the city's newest venue, a reincarnation of The Studio (which hosted all-ages punk gigs in a seedier area of downtown for a time a few years back), just opened in the old Mead Hall space on the west end and was able to come to the rescue.
"They really went to bat, which was really cool, to try and help us out," Millette says.