Edmonton's 'Princes' of punk party with Yakuza rockers in Tokyo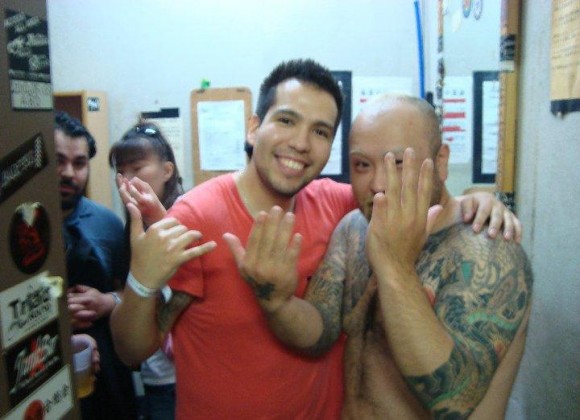 Local punk rockers N.N. somehow missed all the deadlines for most of North America's major new music festivals in 2010 – but at least they made it to Japan.
On a website for a guitarist they all admired – Tokyo's Nikolas Faraguna – they noticed a banner for Japan Music Week. On a lark, they applied. Within a week, they were invited to what turned out to be a blast of rock 'n' roll chaos in the heart of Tokyo.
N.N. has just released its full-length debut album – Princes, produced by Nik Kozub – with a show at the New City Legion on Friday.
The band had to hold a number of fundraisers to fund the trip to Japan, and lucked out with SOCAN grant upon its return. Drummer Anton says the rest was covered by "holding garage sales week after week … so frequent we were afraid the City of Edmonton would make us sign up as a business." Family and friends kept donating items, so they kept selling. Fellow musicians also helped out by holding a fundraiser show at the Wunderbar, put together by Sally Poulsen of the now-defunct Edmontonian.
Just a couple years prior, Anton and vocalist Carms paved the way when they played a soccer tournament in Nagano, and then spent a few days in Tokyo, making the trip a lot easier and the rest of the band feel a little more at ease.
N.N. ended up being booked for four shows: Canada Nite, Hard Rock Nite, Rock Nite and then a memorable opening slot for White Eyes on the Taiwan band's tour stop in Tokyo.
"The event was a little disorganized," Anton says. "One guy was trying to do everything and when you are dealing with hundreds of artists from around the world it can get that way. Most of the shows were not very well promoted, so if you didn't do your own promotion you would have a light crowd, if any."
There were four other local bands on the bill at the White Eyes show. As they're ushered into the venue in "a cloud of smoke, we see a bunch of Japanese rockers sitting around smoking, having drinks, and a couple are sleeping". The soundcheck was "totally intimidating, the guys before us would do crazy guitar/drum solos – it almost seemed like they were competing with each other."
Meanwhile, by this point of the tour Carms' voice was starting to give out. He could barely talk, so Anton "poured him 50/50 drinks, since we didn't have much time," while the rest of the band sang as loudly as they could.
"The curtain starts going up and we kick in before it's all the way up. The crowd is going crazy and really enjoying our music. I look over to see my band's reaction and they are all singing their hearts out while Carms is in the crowd's face tearing into the songs. It was one of the coolest moments ever."
After the show they ended up partying backstage with Japanese bands until 6 a.m. One of the bands said they were related to the Yakuza (pictured with Anton, above).
Now that's punk.