WHERE THEY ARE NOW: Christian Mena, Sabor Divino and Maracujah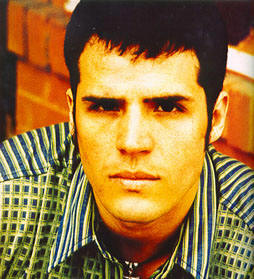 Christian Mena was supposed to have become this big-deal Broadway star when he went away to join the touring production of Rent. How he wound up living back in Edmonton with a wife and kids and running a restaurant is a good topic for a VH1 "Behind the Music" special.
But since there's no tragedy, drug abuse or sexually transmitted diseases involved, this venue will have to do.
"I remember being on tour," Mena says. "It's the greatest life and the worst life all at once. You have no responsibilities. You're not paying for an apartment, you're not paying for anything. You live on your per diem, you get a new opening night constantly, you're treated like a celebrity, you live in a hotel. It's fantastic in one way, but it's so not real life in another. You lose touch. You come back and people are like, who are you?"
Good question. The Chilean-Edmontonian singer, now 41, became the talk of the town in the fall of 1996 as the lead singer of a band called Maracujah. With wicked chops and authentic Latin mojo, these guys cut a huge swath through the local club scene with an infectious brand of Latin party rock, before breaking up less than two years later when Mena got the Rent call.
Maracujah returned in early October to play the Starlite room, as part of an apparent epidemic of '90s band reunions. No, they did not dress in soccer uniforms like they did back in day.
"No way," laughs Mena.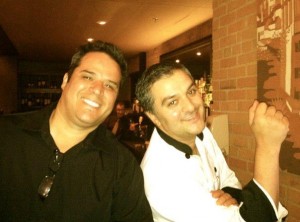 The singer is reached on the phone from his restaurant, Sabor Divino, a Spanish-Portuguese fine dining establishment that he opened almost three years ago with partner and chef Adelino Oliviera. They have live entertainment, and Mena gets up to sing few songs every now and then. It happened last New Year's Eve that former members of Maracujah were hired to perform. A few of the musicians were also in Bomba!, which had formed from the ashes of Maracujah (the phrase "formed from the ashes of" is a registered trademark of VH1's Behind the Music and used without permission). They jammed some old times. It was one of those: "Wow, I'd forgotten how much fun it was to play with you" type of situations. And so another reunion was born. It's actually the 10th anniversary of the first reunion they did in 2001.
The forces of nature point the way in this story – not the least being Mena's wife getting pregnant eight years ago. They have two kids now. Mena still could've made a career in show business. He'd been going great guns in his role as Roger opposite Neil Patrick Harris's Mark in Rent in the late '90s. It was a gruelling regime of eight shows a week (much less partying on the road with musical theatre than in a rock band, Mena observes), often for as long as 20 weeks at a time. When the run ended to generally rave reviews, Mena could've written his own ticket in Hollywood – he did films, TV shows, had more opportunities for musical theatre – were it not for one little deal breaker.
"I hate driving," he says. "I mean: I really hate driving."
You know what they say about L.A.: If you can drive there, you can drive anywhere – and if you can't, for Chrissakes, go somewhere else. The cold, albeit non-judgemental comfort of the talking GPS in the endless hours on freeway labyrinths wasn't enough. Mena couldn't hack the driving. And New York wasn't really an option for various personal reasons that added to his already uneasy feeling that big-time musical theatre, while fun and lucrative, wasn't really where his heart was – "I just didn't know it at the time."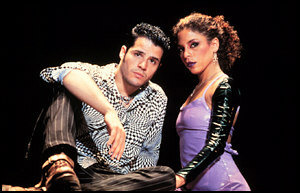 While he misses the Broadway whirlwind, he says, "Music is my thing. I love singing it, I love writing it, I love playing it."
Turns out he was just as passionate about going into the restaurant business. Who knew? Somewhere in there, Mena used his Rent revenue to help his lifelong friend Oliviera open a restaurant in Portugal, exactly the kind of eatery the pair frequented as young men while on a motorcycle backpack trip there. Mena finally convinced his buddy to come to Edmonton a few years ago – and Sabor Divino was born. So if anything, Maracujah is going to be a side project, a bit of fun once in a while. Making a new Maracujah album is going to be low on the priority list, well below family and business, and on top of this nagging notion: what's the point of making an album when the whole "album" thing is is dead, a creation of the record industry killed by the Internet? Singles are where it's at, again – and all it takes is one.
Last question: After all these years, do people in Edmonton even still know who Christian Mena and Maracujah are?
"There's a ton of people who still remember," he says. "This isn't even about the band, it's about a reunion."