WEEKEND MUSIC PREVIEW: Zombies rock tonight
Posted on October 7, 2011 By Michael Senchuk Music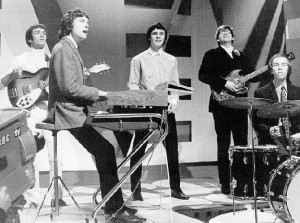 What we lack in big names this coming weekend we make up for in depth. The opening weekend of the National Hockey League season features more than enough reasons to get out of the house after the early game is over, including two release parties on Friday night (Fuquored and N.N.), and the major event of the weekend – Rise Against and Flogging Molly at Rexall Place on Saturday night.
FRIDAY
Wilder Than We. One of many local bands being featured in the weekend this city, this quartet meshes ambient electronic with melodic pop. Arms Up opens. Brixx, 7 pm, $8.
Dana Wylie. Always near the top of venues to hit if you're interested in folk music, the Expressionz Café hosts this Saskatchewan-born/Edmonton-educated artist, who has played more than 300 shows in the last four years. Presented by the Uptown Folk Club. 7:30, $12.
Crystal Plamondon Band. Out in Fort Saskatchewan, this Northern Albertan hails from the village called her last name, and is a talented bilingual singer and performer. Expect to hear ballads, country rock, roots, and Cajun blended seamlessly. Dow Centennial Centre, 7:30, $29.50.
Fuquored. In one of two release parties scheduled for Friday night, this metal-punk group will find itself at the Pawn Shop, along with opening acts L.A.M.S., Machines, and Secret Rivals. 8 pm, $10.
Sak Noel. Hailing from Spain, this accomplished and extraordinarily popular DJ is founder of the world-famous Moguda Dance Festival. His song "Loca People" hit #1 in Austria, Belgium, Denmark, United Kingdom and the Netherlands. Edmonton Event Centre, 8 pm, $31.44.
Enslaved. These Norwegians continue the European metal assault on Edmonton, with their own brand of "progressive extreme metal." Founded in 1991, the band has eleven full-length albums to their credit, and numerous EP's, including 2011's "The Sleeping Gods" and "Thorn". Alcest opens. Starlite Room, 8 pm, $27.75.
Darlings of Chelsea. This Underground rock quartet from Toronto lands in Edmonton on a cross-country tour to support their album "Panic Is Worse Than the Emergency". Ball and Chain and Cult Of Self open. The Studio (10940 166A Street), 9 pm.
Mars and Venus. Local punk-popsters Mars and Venus take over Avenue Theatre, with opening acts Bomb Squad Rookie, Nobody Likes Dwight, and the Dusty Tucker Band. 9 pm, $10.
N.N. The other album release party is headlined by these Edmonton punk rockers, as they drop their debut full-length album "Princes". New City Legion, 9 pm, $10.
SATURDAY
Rise Against. The biggest name playing Edmonton this weekend is this hardcore quartet from Chicago. The band is touring to support their sixth studio album "Endgame", released earlier this year. Flogging Molly and Black Pacific open. Rexall Place, 7 pm, $39.50 and up.
Aldo Nova. Canadian born Aldo Caporuscio rocketed to fame with the hit single "Fantasy" in 1981 and his eponymous album. He's recorded four more records since. Century Casino, 7 pm, $29.95.
Zachary Lucky. A Saskatoon artist who combines alternative and bluegrass? You bet. Snailhouse and The Collective West open. Haven Social Club, 8 pm, $10.
Dawn In the City. These local pop-rockers may be best known for winning a contest that saw them open up for Platinum Blonde at the River Cree Resort recently. Unfortunately, in more recent news a bunch of their equipment was stolen last weekend. They could definitely use your support. Crown & Anchor, 10 pm, no cover (they also play at the same time Friday).
SUNDAY
The Zombies (above). Century Casino is a busy place this weekend; after hosting Aldo Nova Saturday, this English band founded in 1961, known for their 1960's hits "She's Not There" and "Tell Her No", invade the casino on Sunday night. Acoustic Strawbs open. 8 pm, $39.95.
The Old Sins. Since it is a long weekend, the Pawn Shop has a special bash tonight featuring this alternative band from right here in Edmonton, along with two other local bands, Nervous Wreck and Freshman Years. 8 pm, $5.
Down the Hatch. Another local band, this time a skate-punk/hardcore trio, is featured at Brixx. The Mange open. 9pm, $10.