Swedish metal kings Opeth still crushing stereotypes
Posted on October 9, 2011 By Staff Music, The Latest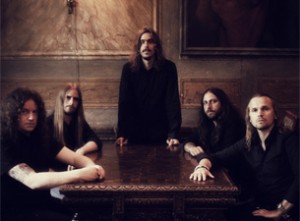 It's either a testament to the endlessly repackaged nature of pop music or the brutal honesty of good metal that the two musical elements don't seem to really get along.
Take Opeth, as close to a death metal megaband as you get — but in no way, really, a traditional death metal band. The Swedish metal masters played the Edmonton Event Centre on Monday night
In fact, with its eclectic blend of poetic passages mixed with slow, acoustic noodling, jazz fusion chord changes, clean vocals and a variety of other non-traditional breaks from metal songwriting, there should be pretty much something in there for everyone.
Call it "prog metal" with a lashing of Iron Maiden and Judas Priest thrown in for good measure, a dose of adrenalin jacked over top and a healthy respect for human intelligence.
The band's album's and complex arrangements are "meant to be heard as one piece," longest-serving band member Mikael Akerfeldt said recently. "With Opeth, the album's sequencing is very important."
One entire album was an exploration of the interplay between the faithful and the faithless; the latest, Heritage, features so many clean vocal breaks and jazz fusion influences, it's hard to even call it death metal and debuted in the top 25 of the Billboard sales charts in both Canada and the U.S.
In fact, it's the kind of "broad vision" approach that, when brought together as a cohesive whole, is designed make people think; that's pretty much the antithesis of pop music, which uses repetitive and simple structures to engender group sentiment: in other words, it's quite specifically designed to be enjoyed without thinking.
When Akerfeldt told Guitarworld that one of his big current influences is Canadian folk rocker Joni Mitchell, he wasn't kidding.
"We listened to all styles of music. Some influences are more there than others, but I think we've been quite taken by the sounds of fusion for quite some time now, all of us," he said last month." "I wasn't really writing thinking 'I'm gonna come up with death metal,' or anything connected with that type of vocals. I was just writing songs wanting to get closer to my influences, the stuff I listen to, and they're not really death metal at this point. I listen to a lot of 60s and 70s type of music, and I wanted to get closer to all of those influences."
Good bands reinvent all the time; it comes from the broad appreciation of music inherent to a certain expertise.
Pop bands? Not so much.