ANOTHER ROADSIDE ATTRACTION: Lots of pumpkins, frights at Prairie Gardens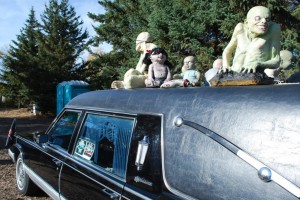 Every kid gets the same idea at this time of year – let's go to Prairie Gardens!
And every parent has the same thought: Oy, vey, I thought we were done blowing all our dough on festivals. Please, please, please and OK, damn it, just one more. And so this Halloween-slash-Harvest theme park located just North of Bon Accord is as crowded as the Fringe for about six straight weeks every fall.
This is serious – a privately owned, booming tourist attraction in the middle of nowhere cashing in on the fairly new concept of "agri-tourism." Once a humble 35 acre spread with a garden centre, the Andersen Family Farm has been turned into a backwoods Disneyland minus rides, and for the last five years has been the family's main business. Most who come agree it's a blast. Owner and "fun director" Tam Andersen says they've recently celebrated the million visitor mark.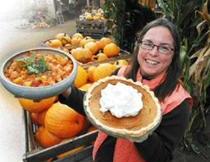 A $9 per-person entry fee buys you the ceremonial plastic admission necklace, and all your other cash can be traded for the plastic doubloons that are the only legal tender at the myriad of adventure park vendors (don't worry: the gift shops take real money). That owners would use such easily counterfeit-able currency in an honour system for up to 50,000 tourists a year is just one of the down-home touches in this bizarre place.
"Farm culture means hospitality," says Andersen, "and maybe we're little less cynical than we should be, but we really hope that that people come here and have fun and support us with their dollars so we can keep going and do it again next year."
After the corn maze, the main thing you notice as you arrive to stroll through the ghost town of "Boon Accord" are all the pumpkins. They have so many they're firing them out of cannons, building pumpkin towers, making pumpkin cake, pumpkin pie, pumpkin stew, pumpkin soup, pumpkin fudge, pumpkin curry and, of course, so many Jack-o-lanterns it would take weeks to count them all. Forty different varieties pumpkins are overflowing bins, on every shelf and underfoot so much you have to kick them out of the way. So there's talk of a pumpkin shortage out East while Alberta is rolling in the gruesome gourds. Sound familiar?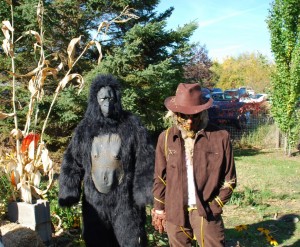 All the attractions here are handmade, with every corner of the site festooned with creepy little geegaws (many made of pumpkins), ghosts, skeletons, vampires, witches, monsters, mutilated bodies, pimped-out hearses. It's as if some lonely farm hands had a lot of time on their hands. Actually the result of 27 years of gruesome decorating skill, it's reminiscent of the decor in that Rob Zombie movie about a rural family of serial killers. Think of that if you're planning to pass fake doubloons here.
The first stop for the average family is invariably the scarecrow-making barn. Everybody here gets to make a free scarecrow. There's a giant pile of old clothes, there's an entire roll of straw, there's your string, have at it, kid. Of course, parents wind up doing most of the stuffing, tying and the getting straw over every single piece of clothing and all over the inside of the car – because you get to take the scarecrows home with you! Thanks a bunch, Prairie Gardens.
Speaking of jobs like pumpkins, this place employs more than 90 people every fall. Some are in show business. Interpretive performers in every imaginable costume wander about to enhance the spooky mood: Scarecrows, zombies, pirates, pink gorillas, you name it. Get your picture taken with Freddy Krueger, little girl? No? We met one – Superpumpkin, whose superpowers weren't clear – who turned out to be a respected Edmonton street performer you probably saw at the Fringe or other area festival in another clever guise. They also have live music and live theatre every day – with "dead" music and "dead" theatre happening down the midway near the hot-rod hearses. If you've come to the creepy "fairy forest," filled with mouldering tableaus of all sorts, you've gone too far.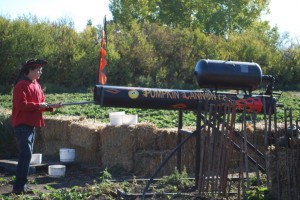 If you are brave enough, try the famous Haunted Farm House, one of several free attractions. With more or less constant muffled screaming heard within, it's decorated in that ragged, rustic manner like everything here. The maze of hallways looks the serial killers' house at Christmastime. The experience of squeezing through the dark, creaky, narrow passages while holding a backpack, a camera, a beergut and the hands of three terrified children on the edge of panic while werewolves and wheezing ghost pirates pop out unexpectedly is not one to be missed. They'll beg to get out – and then they'll beg to go again.
Is there "much, much more," you ask? There is. Anything you might normally find on a farm has been made into some kind of game, display or attraction. So there's a petting zoo way better than the one at the Valley Zoo, straw bale jumping, a nature trail, water pump-powered rubber duck races, cornstalk puppet shows, rustic playpark, tire swings, tractor rides, a shooting gallery and a fishin' pond. Paint a pumpkin and take that home, too, get some wet paint on your car seats. Andersen says they try to put in one new feature a year. This year's it's a trackless choo choo train and "Knight Fighting," where some anachronistic cutpurse in a plastic helmet charges $4 a kid to fight him with a plastic sword, gouging his customers in more ways than one. Have at you, varlet!
Even if you're frugal, you'll still wind up shelling out $60 for a family of four. But it gets you at least five hours of fun and a needed nap on the way home in the car. That's still less than an average day at Capital Ex would cost – and it smells better, too.