REVIEW: Zombies bring psychedelic '60s back to life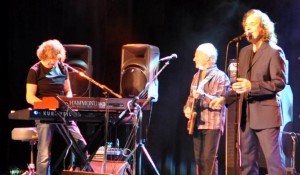 Keyboard solos have become a lost art – as Rod Argent reminded everyone at the Zombies on Sunday night.
The 66-year-old founding member of the British band pounded the keys like a lion, and made them roar like nobody's business. With fellow founding lead singer Colin Blunstone and the support of a tight band, the show was like a mythical monster of the psychedelic '60s being brought back to life for an audience that, in large part, was too young to have ever witnessed it in the first place.
Celebrating its 50th anniversary, the band played Century Casino at the end of a long North American tour that saw it featured on "Late Night with Jimmy Fallon" promoting new album "Breathe Out, Breathe In." For its Edmonton appearance, the Zombies tested out a few of its new tunes, but never neglected the standards that everyone was waiting for. Hits like "She's Not There," "Tell Her No" and "Time of the Season" drew people out of their seats and onto the dance floor. A mini-set from 1968 album "Odessey and Oracle" was an audience favourite.
The music was interspersed with long bouts of chatter from both Argent and the soft-spoken Blunstone. Tales of everything from being covered by the Foo Fighters to being the creators of Paul Weller's all-time favourite record made for fun, intimate anecdotes. Most unusually, a story of the various ties between band members led to the revelation that the first-ever Zombies bass player Paul Arnold – now a doctor in Edmonton – was sitting in the audience.
Things got especially crazy when the band broke into a long version "Hold Your Head Up," a huge hit for Argent, the prog-rock band Rod Argent moved onto in the late '60s.
Blunstone's voice has held up remarkably well over the years, and the band is clearly doing it for the right reason: they seem genuinely enthusiastic to play music together. And with that new album, it's clear it's not all about nostalgia. They're successfully bringing the old music to new fans, and new music to the old ones.