EDMONTON RADIO: CJSR still 'alternative' after all these years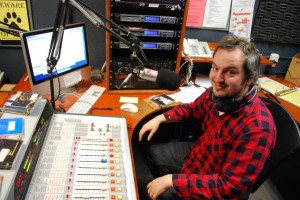 If you're going to listen to one radio station you can't stand to listen to all the time, why not let it be CJSR?
You could do a lot worse. Because, friends, those lonely days where one single station could sustain you, be your constant friend and companion, where the only good music on the radio seemed to be 630 CHED or old K-97 where the DJs would stick on the entire B side of Dark Side of the Moon and just let it play while they went out for a toke, are long gone. We're living in an attention deficit disordered world, obsessed with "merch" and "branding."
Not CJSR. There is almost never an insincere moment or commercial pitch at this volunteer-programmed community radio free-for-all. You won't hear a shred of "corporate rock" – unless it's ironic. The South Siders used to call CJSR "That University Station," because you could only pick it up within a mile of campus and the North Siders wouldn't know what the hell you were talking about. It airs citywide since they installed a bigass transmitter 20 years ago, and of course worldwide on the Internet.
Starting its annual fund drive Oct. 26, CJSR still has that old college vibe. Listening to it constantly is like being trapped in a giant frat house with the brainy Alphas talking global economics over port in one room, the Deltas drinking Jager to the tune of Anthrax in the next, the Omegas blasting hard house down the hall and the goth kids – the Zetas? – smoking pot up in the attic in the company of vintage Bauhaus. And there's some experimental jazz band in the basement.
A subtle sense of irony and hipness pervades the proceedings, although when CJSR is serious it's very serious indeed. They talk a good deal, and run a lot of serious news and public affairs programming that deal with many serious issues. Meanwhile, the announcer-producers pick and spin a staggering breadth of non-popular music you will not hear anywhere else. Not CBC. Not CKUA. Certainly not the Bear. You've heard of triple-A radio? This is triple E radio: Eclectic, Eccentric and Exotic. For proof, here are some of CJSR's most popular artists at the moment: Wilco (alt-weird-country), Slim Moore & The Mar-Kays (neo-soul), Stephen Malkmus and The Jicks (ex-Pavement, grunge-noise-weird-rock), Raised By Wolves (Australian punk rock), Anthrax (New York thrash metal), Deep Dark Woods (dusty Saskatoon alt-country), The Mighty Popo (African folk) and the John Stetch Trio (hardcore jazz). Now imagine all that in a row.
There are talk shows that deal with controversial issues you don't generally hear about in mainstream media: like the story that Obama actually ordered the assassination of American citizens when all Bush did was wiretap them. This is a surprise coming from supposedly left-wing college media. And CJSR airs so much BBC you'll start worrying that Tevez will stay at Citeh. Whatever the hell that means.
The most amazing thing about CJSR is how little its creative direction has changed in 20 years. They still use the word "alternative," which is what non-mainstream music was called before it was commodified into the corporate modern rock we know today.
CJSR's music librarian Chad Brunet (above) – one of two full-time paid employees at the station – declares, "We're the only actual true alternative station in Edmonton. We're the dictionary definition of alternative … We're the true alternative to the pap you get everywhere else."
This sounds awfully familiar. I wrote about CJSR once before in 1992 for an Edmonton Sun article that mocked That University Station's self-serious attitude, scatterbrained playlist, surfeit of punk rock and amateur "pimply-voiced DJs" – prompting Brunet's predecessor Craig Elliott to write an angry letter urging my resignation from the Sun. We're cool now.
And guess what? Aside from production and technological improvements, nothing has changed! Craig Elliott is still there! He's the co-host of a show called '68 Comeback Special with local journalist, musician and bon vivant Tom Murray every Thursday afternoon. Considered two of Edmonton's top musical experts, these guys haven't been U of A students for decades. They don't get paid to keep hanging out. Like all the announcers here, they do it out of love. Tom and Craig, between their amusing Smothers Brothers-from-hell banter, play some amazing and amazingly obscure rock 'n' roll you won't hear on Sonic, and have no qualms about spinning Barry Manilow or other material not intended for irony-deficient listeners. They'll play Metal Machine Music. They'll play Grace Jones back to back with Hayden. These guys are sick.
Other CJSR chronics include Grant Stovel (son of the late Bruce Stovel, a big part of CJSR in the mid-'90s), who hosts the Edmonton-focused blues show Calling All Blues, Wednesdays at 7 p.m. He didn't even go to U of A. Stovel is moonlighting, doing for free at CJSR what he gets paid to do at CKUA. Twenty years ago, David Johnston was a U of A student and photographer for the Gateway newspaper. Now he's the marketing director for one of the largest concert promoters in Canada, Union Events – and under his alter-ego, DJ Dave Stone, hosts an electronic dance show called BPM that plays stuff you won't hear on Hot 107.
The names of the dozens of eclectic, eccentric and exotic programs strewn throughout the week are tantalizing on their own: Rock and Roll Must Be Destroyed!, Electroprolapse , Elektrik Sex Telefon, Heavy Metal Lunchbox and my personal favourite title, Hamster Tales. Some of the music will blow your mind. Some of it will drive you crazy. Some of it will get you a distracted driving ticket when you scramble to change the station as Barry Manilow inexplicably comes on and you spill your coffee all over your lit cigarette and breakfast burrito. Yes, listening to the radio while driving is a real treat.
There has been a marked improvement in CJSR announcers' "stage presence" over the years, thanks in part to a low-key program of announcer "mentoring." There's less awkward banter, less dead air, less wrong buttons being pushed. It makes it easier when you're listening ALL the time. Brunet just laughs when asked if any real CJSR listeners tune in 24/7, and not just for a highly scientific study like I attempted.
"You can't," he says. "I don't expect anyone to. Find a show that you like and stick to it. If there's something you don't like, tune back in an hour – hell, five minutes in some cases."
People do move on. Former music director Christine Chomiak now works full-time for the CBC. Former news director Meagan Perry also works for CBC and for the national (alternative) news website Rabble. Recently leaving the CJSR fold are DJ Arlo Maverick and his popular show Urban Hang Suite, along with local author Minister Faust's long-running show Asiko Phantom Pyramid (which played African music that Faust says we should actually call "musics" because Africa has more than one type of music; good to know). Faust still runs his news show Africentric Radio (Wednesdays at 6 p.m.) that he's hosted since he graduated from the U of A in 1991.
Recently taking over as station manager (the other paid position) is Sarah Edwards, daughter of local broadcasting legend Jim Edwards. Her main experience isn't with radio, but with non-profit organizations, where CJSR appears to need the most help. She brings a good combo of skills: "A love of music, a love of people and a love of volunteers." She's long been a fan of CJSR and was actually forbidden as a kid from listening to 630 CHED (which was all music at the time) – because of course her dad was Mr. CFRN.
As for Brunet, who studied education at the U of A and took this job because it's "a lot more fun," says he didn't become a fan of CJSR until he went to University. "It was just too weird of a station," he recalls.
That's right. It's an acquired taste. The South Siders thought so, too, back in the day, stoned as we were, fond of tripping out to Pink Floyd on K-97. CJSR was – and remains – the Weirdest Radio Station in Edmonton.