HIP HOP: Socalled the new Moby?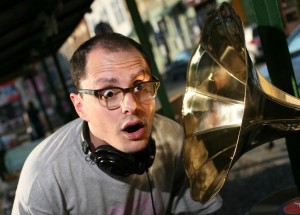 What is it they say about too many cooks in the kitchen?
Never mind – because when Josh Dolgin is the head chef, it doesn't seem to apply.
The multi-talented Montreal artist known as Socalled employed 34 guest musicians on his latest solo album "Sleepover," and came out with a staggeringly diverse offering overflowing with talent from all ends of the musical spectrum.
Socalled is in town Sunday night for a show at the Wunderbar with Katie Moore and local rappers AOK (Assault of Knowledge) and Mikey Maybe. (Socalled's track UNLVD appears on Wunderbar's October compilation featuring all the touring artists coming through the venue in October; watch for a new compilation every month).
"I find out where people are going to be. Some of (my collaborators) are people that I specifically wanted to work with, and some are just people I know are going to be in town," Dolgin says. "The nature of the way I work is so virtual and so piecemeal, it can happen anywhere and you can sort of make it all work later."
Sleepover deviates from Socalled's trademark klezmer/hip hop fusion, venturing into every genre under the sun and sometimes incorporating several styles into the same track. Among his collaborators include aforementioned tourmate Moore, 95-year-old pianist Irving Fields, experimental pop musician Chilly Gonzales and trombone legend Fred Wesley.
An experienced DJ and producer, Dolgin fiddled with the guest parts long after they were recorded in order to get them just right.
"It's not like a take in a studio where you listen to the take and you're like, is that a good take? … This way, it's totally malleable. So every step of the way you can be affecting things," he says. "You can change one little note, you can change the whole situation, you can make the ending the beginning – so there's no one to blame but yourself if you've taken on that task of making a great thing. You can edit it until it's fucking great."
Composing his own songs for the first time, Dolgin set out to record most of the parts on Sleepover by himself. But from one phone call after another, he quickly found out disparate collaborations bring out the best in him.
"I realized over the making of the record that frankly, that is what is fun for me. And that's the challenge and that's what cool for an audience to hear, and for me as an artist to do – is to try to make things that don't really match, match. And try to bring people together using music and using technology," he says.
Dolgin had crossed paths with many of the musicians at festivals before, and in the case of DJ Assault, who appears on the title track, he interviewed the hip hop producer a decade ago while working as a music journalist. That's just one of many jobs Dolgin has taken on throughout his career, in addition to puppet making, magic, photography and cartooning – most of which he still keeps up. His eccentric, multifaceted approach to art was documented in the 2010 National Film Board documentary The Socalled Movie, but Dolgin insists he's not a master of anything. When asked who he might consider for future collaborations, he says he still feels many of his ideal musical partners are out of reach.
"Some people I feel are just totally out of my league. Frankly I think Fred Wesley is totally out of my league, but somehow I've managed to work with him, so that's really cool," he says. "I don't know, Dr. Dre … the RZA … Bob Dylan. Do you have any ideas?"
<iframe width="560″ height="315″ src="http://www.youtube.com/embed/TPZGs2wZbUo" frameborder="0″ allowfullscreen></iframe>