LIT: Thiessen nominated for GG award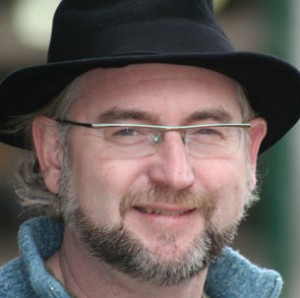 One of Edmonton's favourite playwright sons has been nominated for Canada's top literary award for a third time.
Vern Thiessen previously won the Governor General's Literary Award in 2003 and was also nominated in 2007. Thiessen, a U of A drama grad and former instructor who splits time between Edmonton and New York, is best known for plays that include Einstein's Gift, Back to Berlin ad Apple.
This year he's nominated for his play Lenin's Embalmers, about the two Jewish embalmers told to make Lenin look like he was alive for eternity, or face death themselves.
Their success "fuels the paranoia that leads to their death," he told the U of A folio in 2009. "They gained too much power in Stalin's regime, and were sent to the Gulag."
Both of his grandparents were sent to a Gulag: "One came back after 10 years, the other vanished forever."
Other English language drama finalists include Jonathan Garfinkel's House of Many Tongues, Brendan Gall's Minor Complications: Two Plays, Erin Shield's If We Were Birds and Donna-Michelle St. Bernard's Gas Girls.
English language fiction finalists include David Bezmozgis's The Free World, Esi Edugyan's Half-Blood Blues: A Novel, Marina Endicott's The Little Shadows, Patrick deWitt's The Sisters Brothers and Alexi Zentner's Touch.
In English language non-fiction, finalists include, Richard Gwyn's Nation Maker: Sir John A. Macdonald; His Life, Our Times, Volume Two: 1867-1891, J.J. Lee's The Measure of a Man: The Story of a Father, a Son and a Suit; Andrew Nikiforuk's Empire of the Beetle: How Human Folly and a Tiny Bug Are Killing North America's Great Forests; Charles Foran's Mordecai: The Life And Times; and Nathan M. Greenfield's The Damned: The Canadians at the Battle of Hong Kong and the POW Experience, 1941-45