REVIEW: Bashir Lazhar a lot more than another 'To Sir, With Love'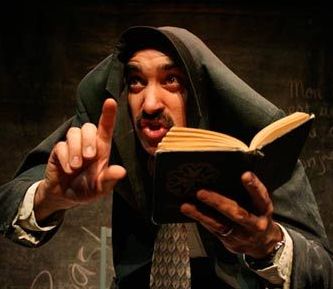 Hot off a successful summer that included the Edinburgh Fringe – where lead Michael Peng earned a nomination for Best Actor – and dates in Kiev and Antwerp, Wishbone Theatre's production of Bashir Lazhar returned home for a short stint of shows at the Avenue Theatre that ended Oct. 16
Detailing the experiences of an Algerian teacher named Bashir Lazhar (Peng), who's been thrown in front of a class of traumatized Grade 6 students in Montreal, this hour-long, two-person performance is bursting with energy and effortless, easy, unwavering shifts between different extremes of emotion. It's easy to see why it was such a hit at the Edmonton International Fringe Festival in 2009. Simple set and lighting details bring everything to life vividly. Words scribbled in French and English across the background, the floor, the desk and chairs, and even on Peng's clothing add emphasis to particular ideas. An overhead projector provides a simple yet eloquent means to layer striking backgrounds over the "chalkboard." By the end, the stage is a paper-strewn mess and the audience is being pelted by paper airplanes.
As acknowledged in the program, the play's plotline is mainly clear, but it's not always easy to grasp what's going on at a deeper level or to pick out any cut-and-dried messages being delivered through the story. There are a million things going on and a million different layers to sift through, and some of them – including the multifaceted character played by Nicole Elbro – take a while to really come to light. The many themes and issues touched upon include the concept of unfairness; tolerance and stereotyping of Arab men; violence and the contradictory way it's dealt with in Western society; the innocence of children; and the responsibility of teacher to student.
Bashir Lazhar is a bit perplexing in and of itself, but compelling and beautifully performed. Its intricacies leave the audience with something to think about.