SURREAL SATURDAY: Organic produce, protest rally in downtown Edmonton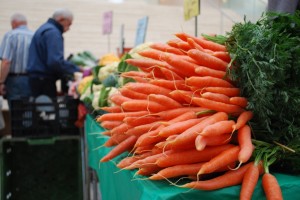 Finally, a good use for City Hall – a farmer's market.
That's the obvious joke after attending the City Market's winter season opening inside our city's headquarters. The next step will be to use all that space and natural light for a hydroponic greenhouse to raise money for the new arena. Home grown.
Open markets have been around for thousands of years, but it seems Westerners have needed to reinvent the concept. It's something of an urban ordeal right now, a confounding experience where you often wind up with a sack of purple kale and lemon pepper humus, but nothing to make for dinner so you're forced to make a quick trip to Wal-Mart. Some people clearly need to learn some new shopping techniques, and farmer's markets have a long way to go. But based on their growing popularity in Edmonton, there's nowhere to go but up – and there's a good habitat for mushroom growing in the City Hall council chambers upstairs.
Nice timing, by the way. Saturday, Oct. 15 was also day of the "Occupy Edmonton" rally just a few metres south in Churchill Square. Hundreds, thousands, millions of Edmontonians turned up at the crack of noon to protest nothing in particular – except for that small matter of corporate greed making life a living hell for 99% of the people on the planet.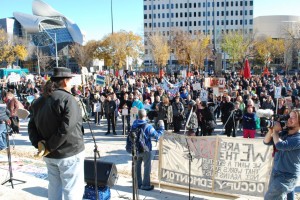 It was a lovely day to "Occupy Edmonton" on this particular Surreal Saturday. Laden with locally-produced organic flax cookies, elk jerky, pumpkin cupcakes, goatbread, free range blueberries, herbal mead, Nepalese momo, purple carrots and an empty wallet, we proceeded from the bustling City Market to the protest rally in time to hear Saddle Lake college instructor Vincent Steinhauer deliver the best line of the day. He was talking about stolen aboriginal land and was about to give a traditional native prayer. "I'm not going to ask you to bow your heads and close your eyes," he said, "because every time we've been told to bow our heads and close our eyes things have been taken from us."
It's a good guess that none of the Occupy rallies in other cities had farmer's markets within short marching distance – right under their noses! Because this, dear readers, is the answer to the problem: Farmer's markets! Make all commerce local, all produce homegrown, all economy a community economy. Sure, your kids will have to play with wooden toys at Christmas, but just think of the fun when you take up whittling. Seriously, if we're all so pissed off at corporations, STOP SHOPPING AT WAL-MART! Shop at the farmer's market instead. Just spitballing here.
The City Market runs every Saturday from 10 a.m. to 3 p.m. inside City Hall until May. The Occupy Edmonton rally may be a one-time thing. It's getting cold out there.