Laughtoberfest Week in Edmonton – from comedy fest to William Shatner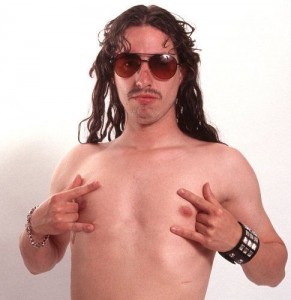 There's something funny going on here.
The Edmonton Comedy Festival with Joe Flaherty, a new comedy-Western feature film set in Alberta, the Deaner from FUBAR (right) performing with his band, Emo Phillips appearing at Yuk Yuk's, Jon Dore at the Comic Strip and Sir William Shatner at the Shaw Conference Centre on Sunday adds up to quite the "Laughtober" in Edmonton.
We're all over this like a burka on Osama bin Laden escaping into Pakistan.
Too soon? See, now that's the trouble with trying too hard to make a joke. It's usually not very funny. This may be why Comedy Network shows with the word "Comedy" (or "Chelsea") in their titles suck. More study is clearly needed. Fortunately, we have a wealth of comedy masters coming to Edmonton this week. Teach us, o' honourabe humourists:
EDMONTON COMEDY FESTIVAL: More stand-up comics than you can shake a stick at, plus the stick (joke stolen from P.J. O'Rourke), are featured in at least seven different venues across town from Wednesday to Sunday. Name your comic and he (or she, but probably he) is here. Go ahead. There you go. Yup! He's here! And so is that other guy who had that show. And wow, that other guy we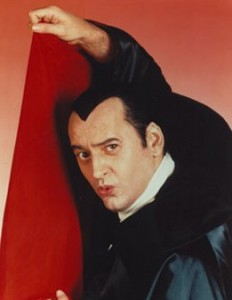 haven't seen in ages is here, too. For the headlining shows at the Citadel Theatre, Wednesday night sees SCTV legend Joe Flaherty hosting the "Edmonton Homecoming Gala"; Thursday is Baby Boomer-themed material and a special guest appearance by the Unknown Comic (yes, that guy with the bag over his head on the original Gong Show); Friday features former teacher and CBC personality Gerry Dee; Saturday it's Mike Bullard of former CTV fame; and it all ends Sunday with the Sidetrack Reunion Show and Atomic Improv – because there is more to comedy than just stand-up – plus lots of special guest comics you might've seen at the long-since-defunct Sidetrack Cafe "back in the day." Go to the Edmonton Comedy Festival website here for complete schedule and tickets.
A LEGEND OF WHITEY: From the fine young gentlemen who brought us FUBAR and then FUBAR II comes this Old West romp filmed around Longview, Alberta. Call it Brokeback Mountain meets Blazing Saddles, or "Back to the FUBAR 3," if you must. It should be a hoot in more ways than one – if producers can find a movie screen to show the thing in Edmonton, that is. It happens that Deaner from FUBAR (aka Paul Spence) is at the Starlite Room on Saturday to screen FUBAR II, during which he will provide live commentary. Later his band Night Seeker will perform. Spence also stars in A Legend of Whitey. Might we have a double feature? Director Dave Lawrence (FUBAR's Terry) says they're trying to work out the details of what has turned into a bit of a confusing muddle, perhaps a reminder of what FUBAR actually stands for. You want us to spell it out for you? Fucked Up Beyond All Recognition. There you go.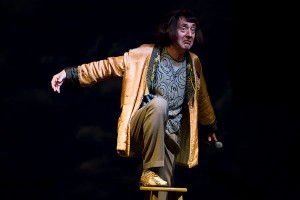 EMO PHILLIPS: Old people were just born at a more comfortable distance from the apocalypse … a chocolate martini is kind of like a Hello Kitty crack pipe … I used to pray every night for a new bike, then I realized that the Lord doesn't work that way, so I just stole one and asked Him to forgive me … so I'm in a bar, nursing a beer and my nipple's getting all soggy … TA-DUM-DUM! People who say the one-liner is a lost art certainly haven't been following the career of this oddball comic, a Henny Youngman from Hell who comes off like a moron with a squeaky voice as he delivers some surprisingly smart material. Common question this week: Where has he been all this time? Unknown! All we can say is that we hope Emo's amazingly disruptive hair doesn't distract from his comedy routine. Phillips plays Yuk Yuk's Friday and Saturday (two shows each night: 8 and 10:30 p.m.). Tickets are $29. Call 780.481.9857 for reservations.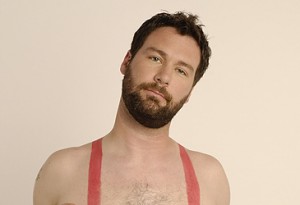 JON DORE – This quirky comic is perhaps best known as the only good thing about Canadian Idol, being the wisecracking sidekick to Ben Mulroney's radiant smarm and the interminable performances of "My Heart Will Go On." Performing Thursday through Sunday at the Comic Strip, Dore came into the comedy game after making his mark as a television personality and realized that material like a song about a homosexual Nazi called "Schindler's Lisp" wasn't going to fly on family television. Nor this: "Last week I went out with a lovely lady and I used a date rape drug for the first time. But you know what? It just made me really tired." Where's that rim shot? It's curious that two of Edmonton's comedy clubs NOT involved with the Edmonton Comedy Festival have special headliners this weekend – potentially watering down the audience for everyone. We'll see. Maybe citizens will wallow in comedy the way they do in theatre at the fringe festival. Jon Dore tickets are here.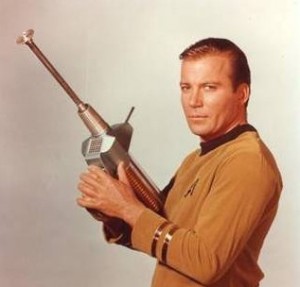 WILLIAM SHATNER: It is unclear whether this Canadian acting legend intended to coast into the sunset of his career as a source of laughter – but he has filled the role nicely with no small help from the legion of Star Trek fans who've practically turned him into a walking sight gag. The Man They Call Kirk, the Best Captain of the Enterprise, appears Sunday, Oct. 23 at the Shaw Conference Centre as part of the How Time Flies tour. He will talk, share memories and – this is the real treat – sing! He's. A. Rocket. Man. Tickets are on sale right here. Computer! Sell this good reader a ticket to William Shatner!