CONCERTS AT THE JUBE: Jim Cuddy Jan. 13, Theory of a Deadman Jan. 27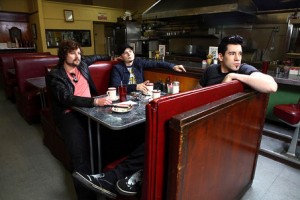 Theory of a Deadman may have been lumped into the category of Bands That Sound Like Nickelback – which is so large it requires its own stack at the record store, or would if there were any record stores left – but at the rate these guys are going it won't be long until Nickelback is tarred as the Band That Sounds Like Theory of a Deadman. Irony!
Riding high on the No. 1 hit Lowlife – the second time Theory of a Deadman has topped the American rock charts – the band moves up a notch in the new year when it plays a show at the Jubilee Auditorium on Friday, Jan. 27, touring theatres across Canada behind its latest album, The Truth Is … Tickets to the show are $27.50 or $37.50 and go on sale Friday at Ticketmaster here.
Next on the queue is another visit from friendly Canadian rocker Jim Cuddy as the Blue Rodeo singer plays the Jube on Friday, Jan. 13, with Doug Paisley in support. Cuddy will be introducing material from his third solo album, Skyscraper Soul. Tickets are $32.50, $42.50 or $59.50 and on sale Friday here.