F&M seeks listeners, shuns popular scene and lets the fatigue set in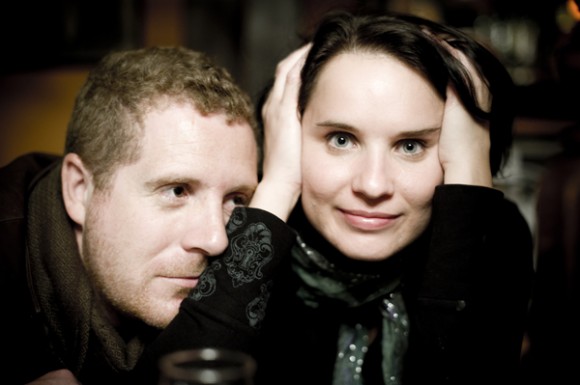 Local trio F&M knows when it comes to pop music, sometimes less is more.
On its newest effort Wish You Were Here, which dropped Friday with a CD release show at the Yellowhead Brewing Company, the band has stripped its romantic folk-pop to the core.
The acoustically-driven songs even leave space for creaking chairs, a chorus of birds and a purring cat, all sounds you can pick out if you listen closely.
"It's a very quiet, simple record," says guitarist Ryan Anderson.
"We tried to strip down the record to almost nothing, but at the same time make them pop songs."
Ryan's wife Rebecca Anderson, who shares vocal duties and adds accordion, piano and the Greek stringed instrument baglama, says F&M is making a conscious effort to escape the trend of excessive layering in popular music.
"I think it's just us embracing that it's OK to be more quiet. It's OK to let the song speak for itself. If you've got a good song, you don't need to put a layer of noise on it," Rebecca says.
"When you listen to some of these pop songs or rock songs, they kind of lose what the song is really about. It becomes background noise. And I think (it's about) bringing back the song, listening to the song itself rather than that wall of noise, bringing back the meaning."
The band's website even contains the rather heavy tagline, "Making space for meaning in anti-billboard rock." Ryan doesn't want to come off too serious, however. After all, this is a band that recorded the theme from The Littlest Hobo for its acclaimed 2010 album Sincerely, F&M.
Ryan just wants to stay as far as possible from wherever his pop peers are going.
"To be frank, if everyone moved away from dance music and started doing the same thing (that we're doing), I guarantee we'd be coming out with a dance record," he jokes.
Wish You Were Here, recorded with third band member Bryan Reichert, is informed by F&M's incessant cross-country touring – for the last several years, the band has released a record a year while playing countless venues from coast to coast.
"We kind of never stopped and we would just go from touring to the studio," Ryan says. "So this record is a response to it. It's very exhausted sounding, tired. It's a romantic record."
Although F&M is hardly a household name in Edmonton (and they won't tell you what the letters stand for), the band's delicate, emotional songs routinely garner high praise from publications across Canada.
Taking the pros and cons of busy road life in stride, Ryan figures he's just about where he wants to be as a musician.
"Everyone says, 'You know what you've got to do?' Or, 'Hopefully you'll make it, fingers crossed.' And I'm like, sorry but we already have. We have a small following, we can make money doing this, we tour the country and by the same token we get good responses by making the music we want to be making," he says.
"Ultimately, I really wish we could put out two records a year. If there is a goal, that would be it – more work."
F&M will perform as a five-piece Friday, and Orit Shimoni and Tyler Butler will warm up the stage.