DEANER: To drink or to rock – you can't do both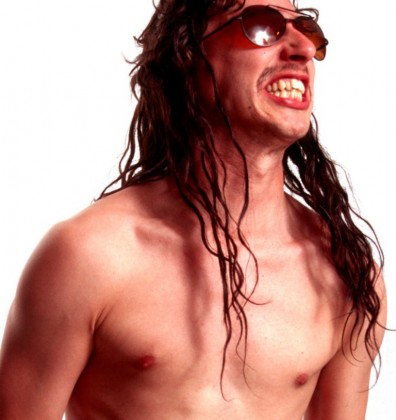 It's not that Deaner doesn't want to drink with you. It's just that if the FUBAR star and Night Seeker bassist downed every shot he was offered before taking the stage, he'd put on a pretty lousy show – and possibly succumb to alcohol poisoning.
The Albertan headbanger was scheduled at the Starlite Room Saturday for a night of FUBAR II and balls-to-the-wall rock 'n' roll to follow.
(Profanity below.)
"People are always like, 'Hey Deaner, here's a fuckin' 24-ounce shot of fuckin' Jagermeister, let's do this. I'm like, I've gotta fuckin play a show man, I can't be like pukin' in the bathroom man," says Paul Spence, speaking in character as The Deaner, a.k.a. foul-mouthed FUBAR protagonist Dean Murdoch.
"The ultimate fuckin' test of partying is when you can find the line every night where you're givin'er really hard but at the same time you're not so wasted that you're like falling off the stage. Cause no one wants to see a fuckin' Axl Rose disaster, you know."
The Deaner describes his band as a mix of AC/DC, early Black Sabbath and a bit of Iron Maiden, "thrown into a back alley with a bottle of mescaline." With songs like Hot Muff, Give'r Take All and No Place Like Christmas, you can expect a hell of a rock show.
But we'll let him describe what you're in for: "It's basically like a rollercoaster, you know, where it sort of starts off nice and slow and then picks up and all of a sudden you go around some windy curves. Then it kinda goes way, way up top, super high, so fuckin' high that you can see both oceans, then it comes screaming back down for the finish."
Deadly.
The 2002 mockumentary FUBAR followed headbanging halfwits Terry and Dean on a series of alcohol-induced misadventures, while introducing the Western Canadian vernacular "Give'r" to the world. The film, which Spence co-wrote with director Michael Dowse and co-star David Lawrence (Terry), propelled his mullet-donning character to cult hero status in Canada.
Night Seeker played its fictional first show at a Fort McMurray strip club in the equally hilarious 2010 sequel FUBAR II. On the soundtrack, the '80s-flavoured band rips through covers and originals with the aid of guitarist Mikey Heppner (Priestess) and singer Justin Hawkins (The Darkness), as well as production by C'Mon's Ian Blurton.
Calgary-born Spence is actually an experienced rocker who played in Montreal band CPC Gangbangs, and his acting credits include the film It's All Gone Pete Tong … but Spence is M.I.A. Meanwhile The Deaner, who says he's been playing bass since he was in the womb, is having a blast touring cross-country and "signing titties" every night. "Except in Jasper," he notes. "You should fuckin' print that man, 'cause maybe them Jasper chicks will get their shit together for next time."
With a new Night Seeker album in the works – tentatively titled Gets In Your Fuckin' Head – the hard partying rocker is making music his No. 1 priority for the foreseeable future.
"It's kind of my only priority. Like sometimes I forget to eat and sometimes I forget to even piss cause I'm just so busy like, rockin'," he says. "So far everything's going really good. We're playing 200-capacity clubs and stuff like that. And that's what being in a band's all about; you go from one step to the next, you know. Next tour we'll be opening for who the fuck knows, like Van Halen. And then after that we'll be doing our own stadium shows. That's how it works."