FILM: New Yardbird Suite doc a labour of love for first-time filmmaker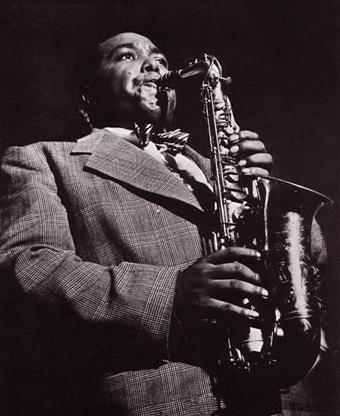 Edmonton Jazz fans are lucky – they might've wound up hanging out at the Roadkill Suite.
Legend has it that one fine day somewhere in the American South, Charlie Parker's tour bus ran over a chicken, called a "yardbird" in the local vernacular. He took the deceased fowl to a nearby farmhouse and had some lady cook it up for him, because the guy absolutely loved chicken – and shortly thereafter was inspired to write one of his famous be-bop standards, The Yardbird Suite.
Well, that's one story, anyway.
What can be verified is that sometime in 1957, Edmonton's jazzers thought the Yardbird Suite would be a swell name for a jazz club – and a Canadian legend was born.
And now for the first time, there's a documentary about Edmonton's storied haven for jazz. The House That Bop Built was produced and directed by Collette Slevinsky, a longtime volunteer with the Yardbird who had never made a film before. It made its world premiere Sunday night at – where else? – the Yardbird Suite, in a fund-raiser for the Global Visions Film Festival (March 1-4, 2012).
It's a remarkable story, of course: Interviews with people like Tommy "the Senator" Banks are spliced with footage from the Yardbird's 50th anniversary show in 2007 to paint a picture of a magical place "that wouldn't exist without government funding and volunteers," as Slevinsky says. "It's about friends. It's not like a normal volunteer experience. People come in to bartend or they work the door or the dishwasher. You form really deep friendships, and that's priceless. That to me is what the film is about."
And the music, of course.
The Making of The House that Bop Built is a pretty fascinating story of its own. It started with some TRUE TALES OF THE ROAD that Slevinsky was privy to in her position as (volunteer) house manager. Several involved jazz musicians being booked for country gigs, that sort of thing.
"Musicians will tell you their worst gigs and they're hilarious," she says. "I thought: there has to be a way to get this on film."
When she realized that her beloved jazz club would be marking 50 years, she knew there was more to this story than zany road yarns. Meanwhile, Selvinsky was taking a filmmaking course with FAVA (Film and Video Arts Society), whose instructor was longtime TV cameraman Rick Gustavson. One of his assignments was this: Pitch your film for a grant proposal. Slevinsky's idea was so good that the teacher, who just bought a fancy new HD camera he was itching to try out, agreed to be her cinematographer.
And yes, they got a grant.
It wasn't easy pulling it together, Slevinsky recalls. One of the problems was the Yardbird's strict no photography policy, "out of respect for the performers," so there is almost no archival footage from back in the day. They were lucky they were allowed to film the 50th anniversary show. Some clips were eventually rounded up from the '90s, with the rest of the historical visuals are taken care of with newspaper clippings and old photographs. There's no narrator, but the Senator "moves it along," Slevinsky says. There are also interviews with Juno-winning Edmonton saxman P.J. Perry and Edmonton Jazz Society co-founder Craig Magill, before he died in 2009. The symbiotic relationship between the Yardbird and the Grant MacEwan jazz program is discussed, along with other youth-jazz programs like the Littlebirds Big Band for high school students – "which probably wouldn't exist if it weren't for the Yardbird Suite," Slevinsky says.
It was a labour of love for this first-time filmmaker – who says she was both surprised and honoured that The House That Bop Built was nominated for an AMPIA (Alberta Film & Television Award) for best documentary under 30 minutes.
While Slevinsky found some people in the local jazz community to be "very reserved" when it came to participating in The House That Bop Built, they all seemed like the results when she screened it at the volunteer party this spring.
"They all love it," she says. "A lot of them say, oh, where can I buy this?"
Time to get an agent, Ms. Slevinsky.