Chicago, the band, coming to Edmonton, the city, on Feb. 13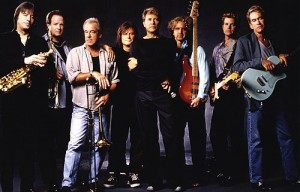 If you leave me now, you'll take away the biggest part of me, the very heart of me, we've come too far to leave it all behind, et cetera, et cetera – wow, what we have here, lyrically speaking, is Baby, Please Don't Go on Quaaludes.
Quaaludes, if anyone remembers, was a drug popular in the 70s. It made one mellow – and perfectly in the mood for bands like Chicago, whose sweetly haunting vocals sound like the Beach Boys on … quaaludes. Man, we're just too mellow to come up with a new comparison. You'll have to check it out live when the one and only Chicago returns to Edmonton to play the Winspear Centre on Monday, Feb. 13. Sounds like a great Valentine's Day present! Tickets are $55, $75 or $115  and go on sale Friday at the Winspear box office.
Now to the burning question that comes up every time a classic rock band is discussed: Who the heck is in the band now? It might be easier to say who is not in Chicago, large as it was, being one of the first rock bands to incorporate horns – and yes, Chicago was a rock band before it "went soft" to huge success. Singer Peter Cetera, who sang all those soft Motown ooh-ahs, is not in the band. Four of the Founding Members are still there: keyboardist Robert Lamm, who wrote songs like Saturday In the Park, along with the horn section: trumpeter Lee Loughnane, trombonist James Pankow and saxophonist Walt Parazaider. Young Jason Scheff, age 23, was hired because of his amazing ability to duplicate Peter Cetera's vocal parts.
There's no new material – but man, they don't need it with (insert impressive stats from press release here) sales in excess of 100,000,000, 21 Top 10 singles, five consecutive No. 1 albums and 11 No. 1 singles. Why aren't they playing Rexall with those kind of numbers on the scoreboard? Once again, we are witness to musicians whose songs are far more famous than they are. Happens all the time – and that's what makes a legend.