From Foo Fighters to the Bavarian Schuhplattlers – scary weekend ahead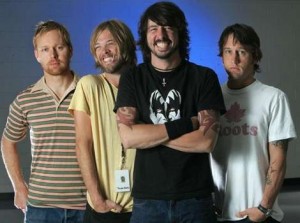 After an entire exhausting week of comedy, it's time to wipe that grin off your face and gird your loins for ROCK in the last week of OCTOBER. We shall call this combination ROCKTOBERFEST.
There's so much rock in town this weekend that even an attempt to render a joke in this usual spot would ruin the sober decorum necessary to describe it all properly – six major events in two days, a new record, each with its own audience, give or take some inevitable cross-over appeal. Plus, all the grown-ups who have completely co-opted the Halloween experience from when it was exclusively a little kid event will be in costume. This is going to be one scary weekend.
There was grumbling amongst Bear listeners when the station announced its Halloween Howler featuring (drum roll) Finger Eleven! (sound of kazoo). But it wound up as no worry as the overexposed Canadian rock band was enough to sell out Friday's show at the Shaw Conference Centre (there may be a few tickets left, keep listening to the Bear, as the Bear says). Perhaps this annual party has a momentum of its own, like the Big Valley Jamboree, and will do well no matter who's playing it.
Meanwhile, it's the Foo Fighters at Rexall Place on Friday. This is of course the band led by former Nirvana drummer Dave Grohl, which has far outshone its late and lamented predecessor in terms of recorded output. Nirvana's muse was angst. Foos is ROCK. Which would you rather see? Which is more fun? There was some discussion on this matter of Seattle bands when Pearl Jam came through town (another story), sparking thousands of 40-somethings into Twenty Nostalgia, as in, "Christ, how did we get so old?" Tickets to Foo Fighters are on sale here.
Rounding out Friday's bill o' big rock fare is the great Los Lobos at Century Casino, the band still perhaps best known for La Bamba – a great albatross around the necks of these otherwise worthy Latin-rock innovators. Here's an example of a song that not only became more famous than its creator – Ritchie Valens – but more famous than the band that did its most famous cover for the Ritchie Valens bio-pic, La Bamba. Los Lobos has done far more than La Bamba, as any fan can tell you. They have 23 albums that span and plumb the depths of the rich fusion between Latin and "Western" music, the band now ensconced comfortably in the "Americana" genre and thus safe from wonks that think the band is known only by La Bamba. The band is touring behind its latest album Tin Can Trust. Tickets to the show are available here.
Saturday is another three-way with the most notable gig being the Who's Roger Daltrey performing Tommy in its entirety at Rexall Place. As rock operas go, this is one of the best – right up there with Jesus Christ Superstar. What would Keith Moon have thought? Legend has it that after a Who show at the Kinsmen Field House or some such horrible venue this town used to be lousy with, the wild and crazy drummer referred to Edmonton as a "shithole." He's dead now. Tickets are on sale here.
Across the river and down the road at the Jubilee Auditorium on Saturday is the great Sam Roberts Band, whose magical brand of roots-rock has captivated audiences for 10 years. Man, has it been 10 years? It is hard to pinpoint exactly what makes this band so special, having the basic instrumental make-up as any less-special garden variety roots-rock band out there. The difference is in the weight of the lyrics and that key ingredient: Soul. You know it when you hear it. Tickets here.
Finally, it turns out that someone else had already appropriated the term "Rocktoberfest" – the organizers of the annual Octoberfest to Rocktoberfest event in the Shaw Conference Centre on Saturday night. More info and tickets are here. It's exactly what it says. It starts with entertainment from bands with names like The Bavarian Schuhplattlers of Edmonton (below), and lots of beer, and undergoes a metamorphosis into Rocktober with entertainers with names like Kim Mitchell – which as it turns out is exactly who's playing this year. And lots of beer. Scary.