Get smurfed, zombified for Halloween at the Theatre Garage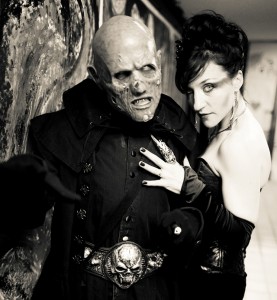 One effect of the Generation X That Didn't Grow Up is that Halloween has become a huge deal for grown-ups. Leave the kids to their cheapo costumes and their candy for one night. This Halloweekend belongs to the adults.
If you haven't yet decided what you're going to be and want to impress everyone at the big Halloween Party, a trip to the Theatre Garage might be in order. The former Shirley Potter's costume store (at 10575 115 Street) now run by a couple of theatre techs can turn you into a Smurf in 10 minutes, a zombie in 15. Charlie Sheen will take longer. Bring your own clothing to have it "zombified" with blood, intestines, bugs and whatnot, or pick out one of the many latex masks, including Hilary Clinton and Barack Obama, zombify them while you're at it. Hey, how about a zombie Charlie Sheen? Too redundant? Use your imagination. The Theatre Garage has stuff you won't find anywhere else – and they do not cater to children (unless you count one lucky kid who whose mom dropped $100 to turn him into a Wookie. Don't tell George Lucas).
"We're the place to come if you can't find anything anywhere else," says co-owner Christy Hutchinson. "We don't do a lot of mainstream stuff. We're the creative place. We try to encourage people to do be unique, to do something different."
Hutchinson and her partner Tessa Stamp can be thought of as the female Mythbusters of the Dress-Up World, the kind of clever techs who can do anything and use the word "build" as a noun. Both are seasoned veterans of theatre and film, and were full-time employees at the Citadel Theatre before they met for the first time on the set of The Wizard of Oz. Both had been working on their own custom designs and were talking about opening up a little shop when they got the news that the Edmonton's venerable Shirley Potter's – its namesake a dresser for the opera back in the day – was going into receivership. The women jumped at the chance. It wasn't easy, as Hutchinson recalls, mainly because they didn't have any money. Dealing with one major investor who allegedly pulled the rug out from under them didn't help, either, but they had lots of friends in the arts community who came to the rescue. The place has been their own since May of 2010.
"The arts community and family is the only reason we have this," Hutchinson says, adding that all their employees are in the arts community, hired on a casual basis between gigs. Their connections have also helped them succeed with continued backstage work for a variety of local theatre and film productions, especially when some show gets a grant and its costume and set designers come into the store to do some serious shopping.
Asked about the strangest thing she's ever done, Hutchinson replies, "Strange is my job. I worked in film and theatre for so long, nothing seems shocking. The strangest one was a film called Freezer Burn, with the guys from FUBAR, filming a streaking scene and going back and forth in the van. I was wardrobe so I was there to throw a blanket on them because it was really cold. Then we'd have awkward conversations before we'd go back out to do it again. And one guy said, 'You know, this van kind of smells like hamsters' And I said, 'yeah, it kind of does.' And I remember thinking: this is my job. It's very, very strange."