Sam Roberts the new posterboy for Canadiana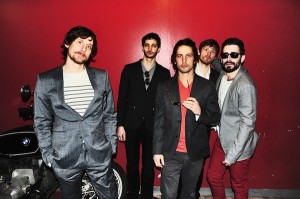 If there's a musical genre called "Canadiana" – and by all rights there should be, since there's already one called Americana – Sam Roberts may well be its new poster boy. He's had extraordinary success in his home country, while finding only moderate success south of the border.
Sound familiar?
How would one describe Canadiana? It would be more rock 'n' roll than Americana, but perhaps a little more casual, a little more laid-back, much like the stereotype of the average Canadian around the globe. It would have to be represented by bands that find equal adoration in almost every region of Canada, and it would probably feature lyrics that discuss Canada, at least in some tangential way.
The Sam Roberts Band, which played the Jubilee Auditorium on Saturday night, is following the path set by The Tragically Hip, perhaps starting when they toured together in 2002. The Hip is famous for such classic Canadiana lyrics like this: "The last goal he ever scored won the Leafs the cup, they didn't win another until 1962, the year he was discovered." That's from Fifty Mission Cap, about the Toronto Maple Leafs' Bill Barilko, who was killed in a small plane crash on the way back from a fishing trip in 1951; his body was discovered 11 years later.
The songs of Sam Roberts are likewise rich in Canadiana:
"He's on his way to Thunder Bay, crossed the border late at night." (An American Draft Dodger In Thunder Bay)
"And her soft brown hair is as long as the Canadian highway." (Hard Road)
"The Canadian Dream was as far away as it's ever been." (The Canadian Dream)
Certainly there are other Canadian bands with lyrics about Canada – a lot, in fact – but few have become as well known as Sam Roberts or as big as the Tragically Hip at its peak.
There are other similarities between the two. They have the same record label (Universal) and both usually do well at the Juno Awards (Sam has won six, the Hip 14), though they have never gone head to head in a category in the same year. Record sales are usually decent for each in Canada, reaching gold (50,000) or better, but America remains a closed door. Roberts has never cracked the Billboard Top 200, while the best the Hip could manage was No. 134 in 1996 for Trouble at the Henhouse.
That's Canadiana for you.