THEATRE: The Rocky Horror Show still has the power to shock, titillate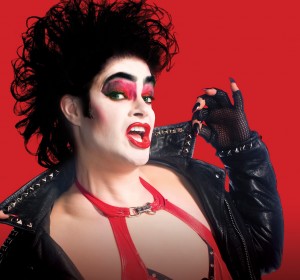 Some people are frightened by transvestites. Call it homophobia.
Now combine that element with the traits of a cannibalistic, depraved, murderous, sex-crazed, mad scientist serial killer who kidnaps a young couple and forces them to do all sorts of perverted things and you begin to understand the enduring appeal of The Rocky Horror Show. The public loves being scared.
At the Citadel Theatre starting Saturday – the previews just in time for Halloween before the official Nov. 3 opening – John Ullyatt will play the infamous Dr. Frank-N-Furter. He says he's not going to ham it up too much. No, the character is over the top enough.
Richard O'Brien's twisted tale is a romance, at heart: Boy eats girl, girl eats boy, the usual sort of thing. Cue Time Warp.
This thing was shocking when it first hit the stage in London, England in 1973. It was made into a famous shocking movie call The Rocky Horror Picture Show starring Tim Curry in 1975 and has been a "thing" ever since. Even Meat Loaf, one of the few rockers who can get away with going over the top, was shocked – and he was in the damned thing.
"He was part of it when it came from London to Broadway," Ullyatt says. "He said he'd do it and then Tim Curry showed up at the first rehearsal in full regalia and Meat Loaf said, 'fuck it, I'm outta here. I'm not doing this,' when it became apparent what the thing was going to be."
Meat was talked into it, of course, and history was made.
Ullyatt goes on, "I think at the time this was out – in the mid-70s, think of that – it may have been, loudly, we're here, we're queer, get used to it! It was about flaunting sexuality. I think it was shocking at the time. Less so, now. Now it's become a fun thing."
Much of the fun is in audience participation. In fact, the movie might've died a quiet death if it weren't for a bunch of New York hipsters who started heckling midnight screenings in 1976. Soon after, everyone started doing it. People would dress up, shout out key lines, use props, sing along, stand up and dance. It's become institutionalized by now. You can even buy a "kit," or make your own. It should contain a rubber glove, confetti, some newspaper, toilet paper and a noisemaker. Do not throw food on stage. If you don't know, don't ask. The Citadel set designer is going for the look of a Lady Gaga concert. Ullyatt, who admits he's never seen a Lady Gaga concert, says he'll make Frank-N-Furter a bit more like Dr. Frankenstein than in the film, but won't tinker with the well-known character too much. You don't want to mess with Hamlet – "But at the same time I still have to put myself into it, absurd as it is," the actor says.
After all these years, The Rocky Horror Show still has the power to mildly shock and titillate the straight white folks who've been turning up in droves to see it. Ullyatt himself says he wouldn't let his kids see it, and in fact is surprised they're doing a student matinee. Imagine the sniggering.
Argue all you want about things that are so bad they're good or the merits of "camp," but transvestite shows that are done well are HILARIOUS. Christopher Peterson is amazing. And his best jokes are the most shocking ones, most alluding to homosexual sex. And so the theory is that the mild latent homophobia that may exist in all straight people manifests itself as comedy. We laugh at what we fear. We laugh at the drag queen as much as with her. Add to that some genuine artistic expression, a few good songs, Somewhere Over the Rainbow, and you can't lose for sheer entertainment value. Consider the Judy Garland Effect. One of the mysteries of modern life is why is the star of The Wizard of Oz became such a hero among gay men. Ullyatt is no authority on drag performers, but he says he thinks it's because that besides Garland's general fabulousness, she was tragic and dramatic – not unlike Dr. Frank N. Furter.
"He's very tragic and very dramatic," Ullyatt says, "especially at the end of the play where he's begging for his life, singing a song about 'blues skies through the tears in my ears.' I'm not trying to play it over the top, but one can see him as a tragic figure, and I think at that point Frank-N-Furter sees himself as a victim. I think there's something appealing about those tragic figures. Willy Loman? I don't know. Has there ever been a female drag king doing Death of a Salesman?"
Oh, man, don't give them ideas. We're confused enough.