WEEKEND MUSIC PREVIEW: Foo for your love and beyond
Posted on October 27, 2011 By Michael Senchuk Music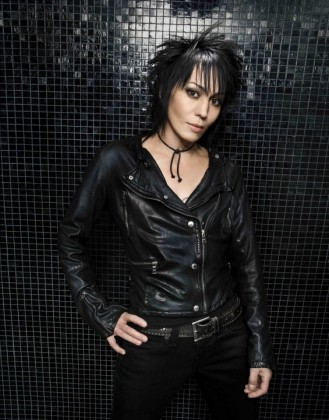 The Halloween spirit has spooked the Gods into providing us with a legendary weekend of live music – anchored by the extraordinary Foo Fighters Friday and Sam Roberts on Saturday. There are plenty of other options for everyone, from Jessica Jalbert to Joan Jett and that's just the J's.
Friday
Foo Fighters – What can be said about this band that hasn't already been said? Nothing. Dave Grohl and friends headline Rexall Place, in what promises to be another legendary evening in its cavernous confines. Mariachi El Bronx and Cage the Elephant open. 6 pm. $39.50 and up, on sale here.
Los Lobos – It's always a bit sad when an extraordinary band like this is most known for a song like "La Bamba". The Latin rockers have 23 albums under their belt, and are touring to support their latest album "Tin Can Trust". Century Casino. 7 pm. $39.95, on sale here.
Dawn In The City – Edmonton's own funk-soul-R&B craftsmen are playing a Halloween Party out in St. Albert at Wasted Space. One of the city's better party bands, why wouldn't you want to be there? And definitely wear a costume. 9820 McKenney Avenue, 8 pm, $5.
Finger Eleven – These Ontario rockers, who have been around for 22 years, are headlining The Bear's 19th annual Halloween Howler. True story: the band first recorded under the name Rainbow Butt Monkeys. Jonas and the Massive Attraction and Hinder also perform. Shaw Conference Centre, 8 pm, SOLD OUT.
Jessica Jalbert – This thoughtful songstress is hosting a release party for her newest album "Brother Loyola", which plays around in a variety of genres, including folk, rock, and, believe it or not, "borderline metal". The evening will include performances from Caity Fisher and Catgut. Jalbert will also perform on November 3 at the Artery as part of Born Gold's release party. Wunderbar, 8:30, $5.
Showtek – This Dutch DJ duo, who own the Dutch Master Works record label and are the de facto leaders of the hard dance movement, headline the Scream Halloween Massive at Edmonton Event Centre. 9 pm, SOLD OUT.
Saturday
Kim Mitchell – Although the beverages will likely tend more towards beer than soda, this Canadian rocker headlines the Oktoberfest to Rocktoberfest festival at the Shaw Conference Centre. Other performers include Bavarian Schuhplattlers of Edmonton (say that five times fast) and the Black Forest Band. 6:30, $32.50.
Sam Roberts Band – Another Canadian artist with multiple Juno awards will attempt to rock the roof right off of Jubilee Auditorium, along with opening act Zeus. 7 pm, $29.50 and up (buy here).
Roger Daltrey – The masterful leader of The Who is on the road performing Tommy in its entirety. To quote Wayne's World – "We're not worthy! We're not worthy!" Surprisingly, tons of great seats are still available. Rexall Place, 8 pm, $40.50 and up, on sale here.
Boogie Patrol – Edmonton's own funk-soulsters will be the centre of attention at the Haven Social Club's Halloween Party; The Canyon Rose Outfit, Scantily Clad & the Well Dressed Men will also perform. 8 pm, $15.
Joan Jett and the Blackhearts – Debatably the hardest female rocker of all time may "hate myself for loving you", but there's no shame in loving her back. River Cree Casino, 8 pm, $59.50, tickets available here.
Bison – It looks like we're lacking in European metal bands this week, but these Vancouverites are more than willing to step in and ably meet your head-banging requirements.  Wake and Sonorous Odium open. Starlite Room, 9 pm.