REVIEW: Sam Roberts delivers amazing show at the Jube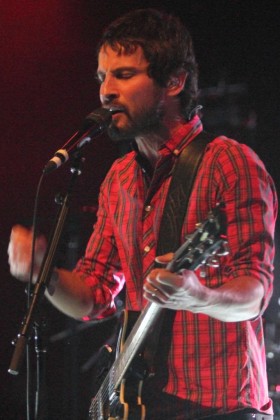 Sam Roberts has proven that his live show is as enthusiastic and intricate as his recordings.
The Montreal rocker and his Band started off with a bang at the Jubilee Auditorium on Saturday night, and rarely let off the gas pedal as he propelled fans through two hours of his rock hits, ballads and deep cuts. His first three songs, beginning with "I Feel You" from his newest album, rocked the very foundation of the theatre. When he finally slowed things down a bit for the fourth song, a small minority of the crowd sat, but they didn't stay in their seats for long, as Roberts did a masterful job mixing less-known tracks with his rock singles such as "Hard Road," ending his main set with "Them Kids," and throwing "Don't Walk Away Eileen" into his four-song encore.
Roberts is undoubtedly one of the best Canada has to offer as a songwriter, and the evening proved why he also deserves accolades for his live show. He added rawness to his complex, perfectionist recordings that worked perfectly with the setting, punctuating many of the songs with exclamatory suffixes of guitars and drums. While the Jubilee may tend to mitigate raucousness, the soft seater did little to quell the delight in Roberts' fans on this evening, and its extraordinary acoustics – amongst the best in the city – were a welcome pleasure after so many shows in arenas and clubs.
While Roberts' light setup didn't seem overly complex, it was one a thoughtfully planned show, not only perfectly choreographed to the music, but showing so much variety that it didn't seem like there was a repeating sequence throughout the night. Spotlights came from every direction, in every color, cascading across Roberts and his band, and lighting a myriad of fashions in the crowd as well. There were ample opportunities for audience participation, with the crowd singing parts of "Detroit '67", "Don't Walk Away Eileen" and "Where Have All The Good People Gone" among others.
One of the hallmarks of a great live band is that they are obviously enjoying themselves on stage. Roberts and his band members were certainly doing that. While he may have been distracted momentarily from his "emotional centre" by odd costumes populating the front row (by his own admission), Roberts is humble as well, shaking hands with many of those same fans, and effusively thanking Edmonton for all of its support throughout the years, ever since the band's "big break" back in 2002 opening for Tragically Hip, in this very same Jubilee Auditorium.
Sam Roberts has the whole package going on – solid writing, emotional lyrics, easily recognizable choruses, great showmanship, extraordinary stage presence. Every musician could take some lessons from him. To cap it all off, he finished his encore with a 10 minute guitar jam that could have matched any guitar legend.
Edmonton was truly blessed with one of the most amazing shows of the year; and it's infinitely probable Roberts will be back to treat us again.