Brian Setzer at EEC Dec. 27, Gigantour – with Motorhead! – returns Feb. 17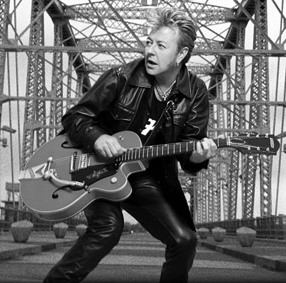 There is only one man who can rock this town, rock it inside out – and that man is Brian Setzer.
The man with the Big Guitar and the Big Crunchy Chords will bring his Rockabilly Riot to the Edmonton Event Centre on Tuesday, Dec. 27. The show will include a special opening set by longtime Stray Cats bandmate Slim Jim Phantom. This is no Stray Cats reunion, but a double trouble-somewhat-big band that will include not one, but two drummers and not one, but two bassists plonking their big bull fiddles.
Setzer and his band was responsible for making rockabilly cool again, for a brief period there in the '80s, and in the '90s upped the ante by making big bands cool again. His latest solo album is called "Instru-MENTAL," which is more or less what fans can expect at the show.
Tickets are $35 and go on sale Saturday at Ticketmaster. Click here to buy online.
Moving to the heavy side of life comes yet another visit from Dave Mustaine's Gigantour – the touring haven for speed metal bands led by Mustaine's venerable Megadeth, playing the Shaw Conference Centre on Friday, Feb. 17. Now before you throw this gig into the Geez, Wasn't This Guy Just Here? category, consider the special guest this time: Motorhead! This is the loudest band in the world, of course, a fact that has been scientifically measured with progressive hearing loss. Also under the Gigantour umbrella this round is Volbeat and Lucuna Coil.
Tickets are $52.50 and go on sale Friday at Ticketmaster here.