MUSIC: Chad VanGaalen's control issues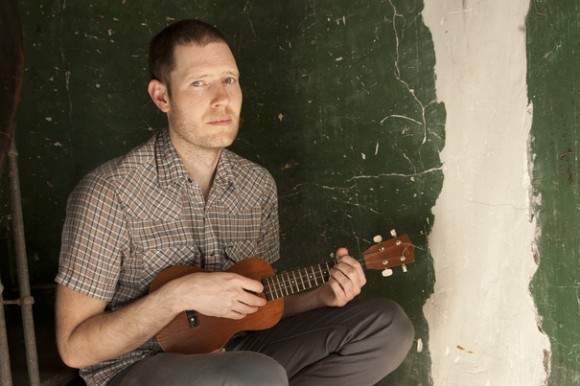 Don't tell Chad VanGaalen what to do.
He won't listen, and besides, he's plenty capable of taking care of it himself.
The multitalented Calgary artist draws all of his album covers, animates his own music videos, and even builds some of the instruments he plays on his self-recorded albums.
"All that stuff, it just takes time and money to get someone else to do it," VanGaalen says matter-of-factly.
"I have my own studio and I know how to draw and make a record cover, so I may as well use that."
VanGaalen played University of Alberta's Myer Horowitz Theatre Friday.
It's hard to say whether VanGaalen is better known for his songs or his visual art, though he has been widely praised for both. Other musicians, including J Mascis and Holy Fuck, have recognized his visual talent and hired him to do their videos.
But they know better than to give VanGaalen any creative pointers.
"I don't really like having anyone else's input, when I'm doing animation especially. So if they come to me with ideas I'm usually like, 'No thanks, you can have your song back,'" VanGaalen says.
"I think most people know. By the time it hits my ear, it's usually passed through a bunch of people that are like, 'Yeah, I don't know if he'd be into doing that.'"
VanGaalen's newest album Diaper Island marks the first time he stepped out of his basement to record in a real studio. The upgrade added a monstrous rock element to his haunting experimental folk, introducing multi-tracked and overdriven guitars. The gear used on the album also appeared on the last Women record, Public Strain, which VanGaalen produced.
The prolific songwriter had plenty of leftover material from the sessions, and has decided to release the whole lot of it and then some. VanGaalen dropped 11 fresh releases in October, some under aliases like Black Mold. And don't think he's stopping there.
"I just finished mastering those over the last couple months, because there was a lot of records kicking around. So 11 of those come out (last) month, and then there's going to be eight records coming out in November," VanGaalen says. "I think there's 30 records in total that will come out over the next few months."
Most will be released solely on cassette as recorded on his own mastering deck, accompanied by digital downloads. That's partly because tapes are lighter to tour with than vinyl, and partly because "nobody really is buying CDs anymore."
VanGaalen says he still spends more time on drawing than he does on music.
"It's just easier. I don't have to turn on tape machines and pre-amps and boot everything up and make sure my tape's loaded, or what's broken, what's working, do a take and then rewind the tape," he says. "(Music) is just a lot more work. My pen is just a pen, you know."
VanGaalen's current non-musical projects include a short film, several concrete sculptures, two upcoming drawing shows and a painting show, recording the next Faux Fur album, and publishing two children's books that were inspired by the birth of his now-three-year-old daughter.
"I'm also a full-time dad, so it's kind of fucking ridiculous," VanGaalen says.
Well, maybe if he had some help … ah, nevermind.