Band members, fans mourn sudden death of GWAR guitarist Cory Smoot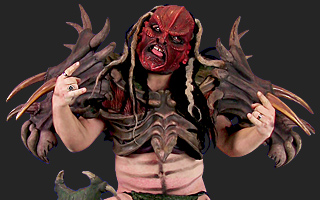 Just a day before GWAR plays Edmonton comes terrible news: The sudden death of band member Cory Smoot. The guitarist, whose stage name was Flattus Maximus, was found dead Thursday morning as the band was about to come into Canada.
GWAR's Canadian publicist confirmed the news. GWAR's tour – and the Edmonton show Friday at the Edmonton Event Centre – has not been cancelled. The show will go on.
Singer Dave Brockie (Oderus Urungus) issued the following statement:
"It is with a sense of profound loss and tragedy that the members of GWAR must announce the passing of their long time guitarist and beloved friend Cory Smoot, also known to thousands of metal fans worldwide as Flattus Maximus."
There is no word on the cause of death, Brockie continues, and there are no details about future plans.
"At this point we are just dealing with the loss of our dear friend and brother, one of the most talented guitar players in metal today. We ask that our fans and the media be respectful of our request for privacy for those that have suffered this terrible loss. A full statement will be coming in the next day or so, in the meantime please give your thoughts and your prayers to Cory, his family, and all the people that love him."
Smoot had been a member of GWAR since 2002. The band was formed in Richmond, Virginia in 1984. Brockie's interview with GigCity he did a week ago can be read here.