Hedley moves to the big time: Rexall Place on March 21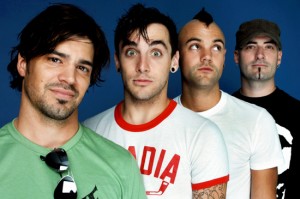 Canadian Idol certainly didn't do Hedley any harm.
Its singer Jacob Hoggard didn't even make it to the top in the much-maligned, now-defunct clone of American Idol (which itself is modelled after British Pop Idol) – and we challenge anyone to name any of the winners of the six seasons. Can't do it?
And even if you can, none are as big as Hoggard's band Hedley has become. For proof, consider that the peppy purveyors of pop-punk goodness have moved up to the big buildings on their forthcoming Canadian tour. Hedley plays Wednesday, March 21 at Rexall Place, touring behind its new album, Storms, which will be in stores on Tuesday. You may already have heard the infectious-like-ebola single Invincible on the radio.
Jake and the boys are bringing a genre-busting passel of pop guests along: the rapper Classified, the singer Anjulie (Brand New Chick) and Kay, as in "my name is Kay-ay-ay-ay-ay." Probably heard those tunes on the radio a few million times, too.
Tickets to the show are a very reasonable $25, $34.50 or $49.50 and go on sale Nov. 10 at Ticketmaster here.