Josh Groban times four: Il Divo returns to Rexall Place July 28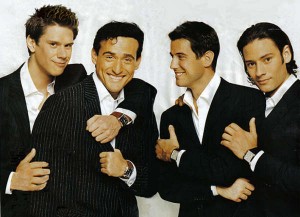 Watching classical crossover quartet Il Divo perform, one has to marvel at the strict choreography necessary for these four perfect specimens of singing man-candy – each of whom is a Josh Grobin or one-quarter Luciano Pavarotti in his own right – to stroll slowly around a giant stage while crooning Bridge Over Troubled Water as it if were an opera aria and always end up right back on their marks.
Amazing.
One likewise has to marvel that Bridge Over Troubled Water isn't the only pop classic these giant classical crossover stars tackle and, whether the pop classics like or not, make it their own. Expect Simon and Garfunkel and more when Il Divo returns to Rexall Place Saturday, July 28. Expect Celine Dion, Moody Blues, West Side Story and Regresa a Mi – not an opera number until these guys did it: Unbreak My Heart by Toni Braxton.
There's more to come! The group created and managed by American Idol's Simon Cowell announced dates of its 2012 world tour Monday, coinciding with the release of its latest album Wicked Game, in stores Tuesday, Nov. 8. Yes, it will include a version of Chris Isaak's famous song, along with material from Roy Orbison, Samuel Barber and other pop-classics sure to become staples in the Il Divo canon. Everything sounds sexier when sung in Italian, does it not?
As for the concert, tickets will be going on sale Nov. 18. Details to come.