Firefighters to do the Wiggle Man at Fashion on Fire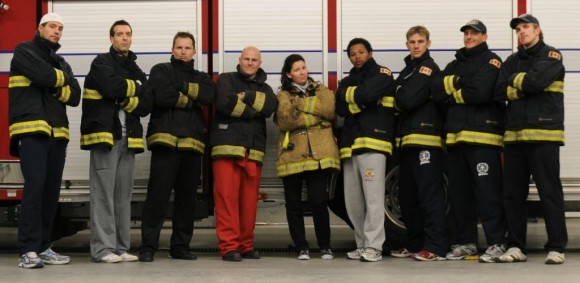 Edmonton firefighter Bob Murray says he would "rather go into a burning building" than get up on stage and dance for hundreds of screaming women.
He is a brave man, however, so he will do his duty and perform as part of this weekend's Fashion on Fire. The event he helped found happens Saturday at the Shaw Conference Centre. Women are expected to lose their minds as three groups of area firefighters strut their stuff in six different song and dance numbers, including a rendition of LMFAO's "Sexy and I Know It" complete with tear-away pants at the climactic moment: Wiggle, wiggle, wiggle, wiggle, wiggle.
"They won't be wearing Speedos," says Murray, "But their shorts will be awfully tight."
Murray isn't in the troupe that's doing Sexy and I Know It, but this veteran firefighter knows well the allure of that members of his profession have upon women. He just doesn't understand it.
"I don't get it," he says. "I think it's the uniform. Women like men in uniform. It doesn't matter what you look like, Girls are like, 'ooh, a fireman!'"
We turn to a woman's point of view for deeper insight: Grant MacEwan University dance instructor Jacqueline Pooke, who worked with the firefighters on Sexy and I Know It. Asked what the deal is with women and firemen, she says, "Well, first of all, they take very good care of themselves, both physically and mentally. Bravery is sexy in itself – for a women to know that there's going to be someone there for you, someone who's going to jump in and save you. Everybody wants their prince to come and save them."
Saving lives on a daily basis – "not on a daily basis" Murray interjects – OK, a weekly basis is what these guys are trained to do. G-rated Chippendale's routines they are not. This firefighter says he was "petrified, like a deer in the headlights" the first time he tried it, in Australia four years ago, where he got the idea to bring it to Canada.
"The only reason I decided to do it was because nobody knew me," Murray says, "and I thought it would be a new experience. I'd never done anything like that. I like to try new things."
It is precisely this trait that makes firefighters good candidates for dance instruction, says Pooke. "They just jump right in and do what needs to be done – and that's a tribute to their training."
Burning buildings or the Wiggle Man, all in a day's work, ma'am.
Other attractions at Fashion on Fire include the fashion show portion – using professional models, not firefighters, unless they are needed – and live entertainment from Juno winner Q-Benjamin with Kira Hladun, Dru and Katia Zuccarelli. There's also both a silent and live auction and dinner, and no Full Monty aside from the awfully tight shorts.
"This is a class event," Murray says.
All proceeds go to charity, as all proceeds from such endeavours must. In this case it's a three-way split between the Burn Treatment Centre, makers of the popular Firefighter Calendar, which will also be on sale at the event, along with the Firefighter Memorial and Muscular Dystrophy Association.
Tickets are $165 and can be bought online here.