CONCERT REVIEW: Les McKeown keeps Rollermania alive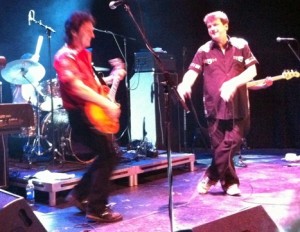 He may look a little less svelte in his tartan-accented custom leisure suit than he did on the cover of "Dedication," but Les McKeown and his group of faux-Bay City Rollers proved Thursday night why Rollermania should not be forgotten.
The Century Casino was packed with overgrown teenage girls who rushed to the front of the stage, eager for a glimpse of a dream in the flesh. Bedecked in plaid scarves, kilts, tams and homemade Rollers suits and ready to dance, the ladies weren't shy about shouting for what they wanted: "Saturday Night!" and, of course, "Take off your clothes!"
Except for that last part, Les McKeown's Legendary Bay City Rollers delivered.
McKeown, whose stint with the Rollers lasted from 1973 through 1978 (right at the prime of their teenybopper heyday) grinned, told stories and teased his band mates, but most of all, he showed that the Bay City Rollers, despite often being written off as a trite sensation, actually wrote some really good pop songs. Tunes like "Remember (Sha La La La),"  "Shang A Lang" and obscure B-side "The Bump" got audience arms waving and hands clapping, and there were a few moments that the wild froth the Rollers whipped up in the 1970s seemed in danger of bubbling over again.
McKeown seemed to love it. He's had than his share of problems with drugs and alcohol in recent years, and it's worth noting that the Rollers put on a completely professional show: no alcohol onstage, with everyone looking healthy and happy.
Versions of The Monkees' "Daydream Believer" and Dusty Springfield hit "I Only Want To Be With You" (which they charted with at No. 3 in Canada) were pulled off flawlessly and kept the crowd happy, but towards the end of night the chants of "S-A-T-U-R-D-A-Y" were getting downright unruly. For the final encore, the Bay City Rollers wisely decided against causing a riot and launched into their biggest hit, "Saturday Night," which remains a perfect party jam to this day. The ladies danced, sang, and held their tartans high in the air – an ultimate tribute to the Rollermania that once consumed the world.