O Canada, Bonnie Ste. Croix records for thee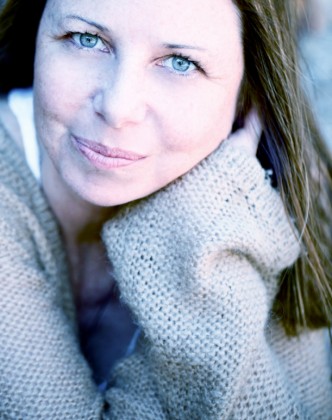 Bonnie Ste-Croix's passion for Canada runs deep.
The singer/songwriter loves her home country so much, she named her latest album Canadian Girl and recorded every song in the collection in a different Canadian town.
Which makes it a little bewildering that after a solid 15 years of touring, her Saturday gig was her first time playing Edmonton. (Due to building issues, the show was moved from the Haven – on the bill with Hey Ocean!, The Belle Game and Democrafunk show at The Starlite Room.)
"Go figure, I know," she says, adding she even has relatives living here. "I'm very much looking forward to it."
Ste-Croix dreamt up Canadian Girl when she left her Vancouver home a year-and-a-half ago and moved back east to be closer to her family.
Originally from Gaspe, Quebec, Ste-Croix has also lived in Montreal and Banff.
"When I actually thought about driving across the country again, I thought, Oh gosh, I know where I want to stop for coffee in Brandon and I know where I'm going to go when I go to Moose Jaw … I had this moment where I thought, 'You know, it's kind of life all of Canada is my hometown,'" she says.
She set out to make an album that would reflect that sentiment, and did so by hitting 14 studios in 14 towns to record 13 distinctly Canadian folk and roots songs, with the help of 46 guest musicians.
The logistics of co-ordinating schedules with that many touring artists across such a wide expanse of land proved complicated, but Ste-Croix is thankful for every minute of it.
Highlights of her ambitious endeavour included working with an Inuit girls' choir at a school in Nunavut, and holding renowned fiddler Natalie MacMaster's newborn baby as MacMaster recorded her guest spot on the album's title track.
"It has truly been the most meaningful thing I've ever done. And I say that without any hesitation," Ste-Croix says.
"There were just so many moments that were, I think, pretty life changing for me."
Croix worked closely with producer Bill Buckingham in Vancouver to mix the album, ensuring it came out as a cohesive project despite all the town-hopping and musician-borrowing. The resulting album is remarkably consistent, a quintessential piece of Canadiana with ample references to local landscapes amid pretty acoustic melodies.
Making Canadian Girl has only strengthened Ste-Croix's passion for the true north, strong and free.
The self-proclaimed history buff says she learned fascinating things everywhere she recorded.
"What has come of that is many of those stories that I learned about while there are turning into new songs that I'm writing," she says. "There was so much learning about each province and territory, about the culture and the personality and the geography and the history."
Ste-Croix has been able to call on her guest musicians to join her on stage throughout the tour, which is another nice perk of working with everyone under the northern sun.
The prospect that she will ever tire of crossing the country seems very unlikely.
"You can call me when I'm 70, I'll let you know," she laughs.
"Canada is such a vast country and there are so many places to go and to play … I'd also like to try to continue to go to places that I haven't yet been. It's kind of my goal to bring it to the doorstep for Canadians."
Tickets are available here.