The Tea Party returns: No politics, just music and maybe a lot of money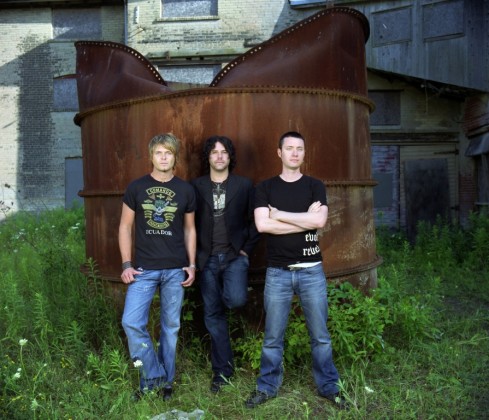 The Tea Party reunited just in time to get into an unwelcome mix-up with the American political movement of the same name – which prompted a stir about the band and its Internet domain, teaparty.com. Estimates floating around on the value of the name have hovered around a million bucks.
While drummer Jeff Burrows admits the band has received "a phenomenal amount of interest worldwide" as a result, it's something he would rather stay out of – and will, for the time being. The band played the Edmonton Event Centre on Friday.
"It just got to be a bit of a pain and it's not worth it for us to have to deal with it. So it's essentially in the hands of a brokerage company," Burrows says. "It's available for sale if someone really wants it that bad."
On the plus side, the controversy has prompted The Tea Party's former American labels to finally release the band's music on Itunes. The downside is that some have screamed "sellout" over the prospect of the band selling its web handle. Burrows will have none of that nonsense. "If a windfall were to happen, it's only to help us create new music and afford us the opportunity to get back in the studio," he says. "There's so many naysayers out there who are calling themselves fans and I'm like, 'Well OK then I guess we won't (make) a record, because you know what? No one has a record deal and no one has a publishing deal and no one is going to be able to afford to do music.
"So I guess you're not a fan. So go away."
As for his feelings on the Tea Party political movement, Burrows doesn't want to go to deep.
"I'll keep that to myself. But I feel the way most Canadians feel about it," he says with a laugh. "Or most well-spoken Americans."
Gotcha.
To most Canadian music fans, The Tea Party's 2005 split seemed like a done deal.
In the mind of Burrows, nothing ever really ended. Even though the trio split on harsh terms, and Burrows, frontman Jeff Martin and bassist Stuart Chatwood subsequently went years without speaking, Burrows preferred not to acknowledge any breakup. It's not as if he was at a musical dead-end without his pals; aside from a radio DJ gig, Burrows found success with Canuck supergroup Crash Karma, featuring Edwin, ex-Our Lady Peace guitarist Mike Turner and Amir Epstein of Zygote.
"I was always of the mindset that I had not left the band," Burrows says. "I never put, 'Formerly of the Tea Party' if they were talking about Crash Karma or something … I was always ready and willing and keen."
The Tea Party began to explore a reunion in March 2010, and this month the band kicked off its first tour in six years. The guys are not exactly picking up where they left off, though. Martin has taken on several other musical projects, Chatwood composes video game soundtracks, and Burrows is working on a new Crash Karma album.
Burrows' son Nicholas is also on his way to rock stardom with his band The Indecent, which, just inked a deal with Warner Bros.
Today's Tea Party is an older, wiser, busier bunch.
"We stopped being a band when everyone was just a member of the band. Now everyone has their hands and limbs in different pots," Burrows says. "I've become so busy it's unreal. And I know Stuart's busy and I know Jeff's very, very busy as well."
The band has discussed writing new material and has potential tours in the works for Australia, Europe and Asia. Burrows, however, wants to take care of some personal issues with the boys before any major decisions are made.
"We lost our best friendships that we had nurtured since grade school," he says. "So for me, personally on a selfish note, I would like to see those types of relationships and family issues resolved."