EDMONTON RADIO: Awkward Travis mocks the shock jocks
Awkward Travis has asked spelling questions to drunk people on Whyte Avenue, accosted Oilers fans to talk about Twilight and tried to get women to give him their bras at the mall. He got his nickname one day when he approached people sitting by themselves in a coffee shop and said, "Hey, you look lonely. Is it all right if I hang out with you for a while?"
He'd tape the conversations. Then he'd put the hapless citizens' embarrassed, awkward, puzzled, angry reactions on the radio – for the amusement of the masses!
And so: Awkward Travis. This guy will say or do just about anything in the service of comedy – and that's part of what makes him one of the brightest new stars Edmonton Radio has seen in a long time. His bits can be heard somewhat semi-regularly on both the Bounce 91.7 and Sonic 102.9 – which are both owned by Rogers (which may help explain why you hear Foster the People's Pumped Up Kicks on both stations) – primarily on the Marc Michaels morning show on the Bounce, sometimes on Sonic's Garner Andrews Show and Travis's own show on Sonic every Saturday from 8 p.m. to midnight: The Saturday Night Shindig. He calls it a "variety show."
Turns out he's a kid. Twenty-one years old, practically fresh from NAIT's broadcasting program and in possession of what schoolteachers might describe as a "bad attitude," Travis Bretzer displays a twisted sense of humour backed up by a surprising depth of pop culture knowledge tempered by a complete lack of respect for same. Asked if he enjoys making fun of celebrities, he answers brightly, "Yes!"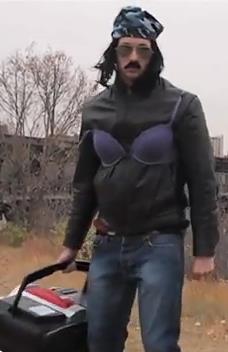 Splendid. He's perfect for modern radio. As long as he doesn't upset the sponsors too much, eh? The Rogers people were smart in luring this broadcasting prodigy from his first gig at 94.5 FM the "Beat" in Vancouver, where it is said Bretzer's gifts were underutilized. Apparently the drunk people street interviews didn't test well. One bit never even made it to air: getting beaten up by an outraged Vancouver Canucks fan for asking a smartass question about the Vancouver Canucks after a tragic loss to the Chicago Blackhawks. Awkward!
Travis explains, "You have to judge the situation, and that was a poorly judged situation. Imagine if I'd asked that during the riots?"
As with other gonzo interviewers like Stuttering John (Howard Stern sidekick), who will also say or do anything, Travis's flair for streeters is in his ability to disarm his subjects into thinking he's some snot-nosed idiot – and then hit them with a blindside. For example, recently Travis interviewed Dru about his sexually suggestive song "Gettin' It In" and told the rapper he'd never had sex before. Dru fell off his chair laughing – the highlight of an otherwise dull interview.
Awkward Travis has only recently been allowed to talk to actual celebrities. He says his idol in that field is the great Nardwuar the Human Serviette, who most people think is a complete flake until he reveals that he actually knows EVERYTHING about his subjects. He even gives special little gifts. Nardwuar's interviews are usually great, occasionally terribly awkward and always original.
"I think he feeds on the fact that they probably don't expect much from him," says Bretzer, adding that he's pulling a Nardwuar in an upcoming interview with LMFAO. He's got a special gift for Redfoo.
Bretzer's background is in behind-the-scenes production. From NAIT straight to Vancouver, he started off doing commercials and producing comedy bits from ideas the on-air staff came up with. One of his first assignments was to compile the various ums, ahs and grunts one of the female announcers made and have it sound like "Hark the Herald Angels Sing." He came up with a few ideas of his own. One early bit was "live Facebook status updates," where he'd stand beside some stranger and say things like, "I am standing beside a guy."
He can do hard news, too. Recently Travis paid a visit to Occupy Edmonton, where there were only four people:
Travis: "Even though there was a low turnout, the protesters were still stickin' it to the Man! (To protester): So what kind of progress is being made out here?"
Protester: "I'm not 100% … I've only been here about two weeks."
Travis: "There you have it: Occupy Edmonton. Now I'm going to occupy a La-Z-Boy and eat some nachos."
Text cannot convey the deadpan smirk with which Travis delivers his lines, nor the various celebrities he imitates and skewers mercilessly. We never knew Avril Lavigne had such a hoarse voice. Likewise, radio can't fully convey his routine about going trick-or-treating with a hidden camera in a cowboy hat – Simpsons-style – and people still gave candy to this more or less full grown man. TV might be the ultimate place for Travis to really shine – as with Fearless Fred, the former Bear announcer who hit the big-time as the Teletoon late night spokesgeek.
Travis knows well the "line" one is not supposed to cross, especially when one works for a major media corporation. Said line, he says "is like a rattlesnake." Former collaborator and Bounce personality Ian Slipp (whose idea it was to have Travis talk to lonely people in the coffee shop) used to cross the line "all the time." It's an occupational hazard when one has a bad attitude and general disrespect for celebrity and authority.
Travis recalls one incident, "There was one Jersey Shore parody we did: North Saskatchewan Shore. The line was, 'They call it Hawrelak Park because it lacks whores when I'm done with it.' And we got a note from the big guys. I'm sure there are times they don't even hear what happened. It's such a double standard. Rihanna can talk about having anal sex but I can't make a clever word-based joke? Albeit it is a bit of a testy joke."
Travis isn't trying to be a shock jock. He mocks shock jocks.
"I think the Howard Stern thing has been done to death," he says. "Oh, I'm gonna push some buttons today! I'm a shock jock! Cue the noises! Psheew! This is my show! No offense or anything, but there's a lot of different angles you can do to achieve a similar and better lasting power and be unique and have fun. And also I think it's a lot less cruel. I love Opie and Anthony, but they just do some cruel stuff. I prefer the same sentiments and same message delivered with way less of a punch in your face."
Don't take that literally. Travis says he wants to cover the Oilers one day – because he loves how hockey fans "go apeshit." Mind those poorly judged situations now.
It's difficult to measure his popularity. Radio ratings, if they're of any use at all, reflect the popularity of entire shows, not specific bits of it. Facebook or Youtube hits can help, but the presence of any celebrity content, good or bad, sends almost anything on the Internet off the scale, so who the hell knows? Travis himself doesn't have a clue. He says all he knows is that it's a good sign when his bosses laugh. One thing is sure: Awkward Travis gets prime time airplay on not one, but two major market FM radio stations in one city. He may have the biggest radio audience in town. For now, his bosses are letting him do whatever he wants.
As Sonic music director Adam Thompson says, "When you find talent like that, it's rare."