TONIGHT: Austra or Feist, take your pick of one-named sirens
Posted on November 18, 2011 By Michael Senchuk Music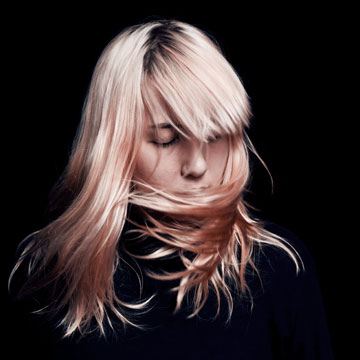 This weekend featured back-to-back reunion shows at the Edmonton Event Centre: The Tea Party Friday and the hotly-anticipated Death From Above 1979 Saturday. Tonight there are also two effervescent one-named ladies gracing us with their presence: Austra and Feist are both in town. Good things come in twos.
Friday
Ruby Jane – The Full Moon Folk Club is presenting this fiddler-singer-songwriter-multi-instrumentalist from Austin, Texas, who plays a blend of country, jazz, Americana and bluegrass. St. Basil's Cultural Centre, 7 pm, $22.
Bruce Conte – Former Tower of Power guitarist hasn't actually played with them for 28 years, but he's still every bit as talented as ever. Festival Place, 7:30, $32.
Jeff Stuart and the Hearts – This Edmonton band is hosting a release party for its sophomore album "Equal Parts Reason and Moonlight" at the Pawn Shop. Popular local bands Manraygun and Scenic Route to Alaska open. 8 pm, $15.
Colin Close – The second of this evening's release parties is at the Haven Social Club for this local folk artist. Edward Blicq and Rebecca Jane Crossman also perform. 8 pm, $12.
The Tea Party – While this eclectic band hasn't produced an album since 2004, the reunion tour is getting a lot of attention across Canada. They are perhaps best known for their videos, which were nominated 22 times for MuchMusic Video Awards. Edmonton Event Centre, 8 pm, $46.50.
Mayhem – It's good to see we're back to Edmonton's weekend tradition of a European metal bands. This band is from Oslo, Norway. Hate and Abigail Williams open. Starlite Room, 8 pm, $29.95.
Saturday
Wunderbar Versus the Taxman Fundraiser – An awesome cross-section of Edmonton bands, including Weekend Kids, Falklands, Ghost Cousin, as well as some secret guests, try to help this local venue stave off possible doom. Bands start at 3 pm. You can get in for a donation of your choosing.
Sarah Troy – This jazz artist from Bragg Creek hosts an album release party at Expressionz Café; The Canards will also perform. 7 pm, $12.
Feast Or Famine – The early show at the Pawn Shop features a trio of local punk bands, with Oh Messy Life and On Your Mark also performing. 7 pm, free.
Death From Above 1979 (pictured, top) – One of the most talked about reunion tours in 2011 hits Edmonton full force with this Toronto dance-punk-noise-rock duo. Its 2004 album "You're a Woman I'm a Machine" is a staple of music aficionados throughout North America. Edmonton Event Centre, 7 pm, $40.
Painting With Ella – This local folk trio with jazz overtones reached the finals of Calgary Folk Music Festival's famed songwriting competition two years in a row. The Artery, 8 pm, $10.
Bonnie Ste Croix – The Canadian treasure plays Edmonton for the first time, ever. Surprised? You wouldn't be the only one. Haven Social Club, 8 pm, $20.
Hey Ocean – This refreshing Vancouver pop trio is so coastal you may hear the actual ocean during its performance. Starlite Room, 9 pm.
Sunday
Austra (left) – Katie Stelmanis' band was shortlisted for this year's Polaris Music Prize with its album "Feel It Break"; her twin backup singers Sari and Romy Lightman are also in the evening's opening act, Tasseomancy. Moved to Starlite Room, from Friday at Brixx, due to scheduling and weather conflicts, 8 pm
Po' Girl. You may very well lose count of how many instruments this Chicago quartet breaks out, as they've been known to play the accordion, clarinet, banjo, dobro, glockenspiel and bicycle bells, in addition to more traditional instruments. Their jazz-world-fusion sound seems perfectly suited to a Sunday night, and their home for the evening, the Haven Social Club. Van Funk & the Lebarons open. 8 pm, $25.
Feist – This Nova Scotia native may very well be Canada's most well-known and talented female folk artist of the moment. She has eight Juno awards to her credit, as well as a shared Grammy award for her work with "A Colbert Christmas" album. Jubilee Auditorium, 8 pm, $39.50, buy tickets here.
The Geese – This Vancouver folk quintet has toured across North America with its own "danger-folk" brand of music. Also performing is former Sonic Band of the Month Zerbin, along with Ben and Gorodetsky and Dylan Howard. Wunderbar, 8 pm, $7.